Dna-Encoded Libraries (Topics in Medicinal Chemistry #40) (Hardcover)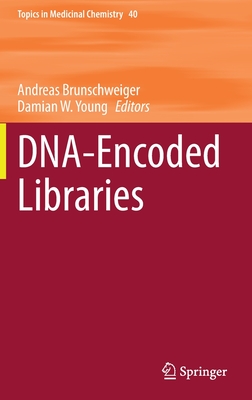 $454.99

Available in our Warehouse: Usually Ships in 3-8 Days
Description
---
This book deals with the recent advances in DNA-Encoded Library (DEL) technology that has emerged as an alternative to high throughput screening (HTS) over the last decade and has been heralded as a "disruptive" technology for drug discovery.
The book aims to provide a comprehensive overview of all of the major components of the DEL process from conception to bench execution and clinical investigations. The contributions from experts in the field combine different perspectives from academia and industry. The book will be of interest to researchers in the drug discovery field as well as to graduate students and scholars who are interested in this rapidly improving technology.
About the Author
---
Andreas Brunschweiger studied Pharmacy at the University of Kiel. He obtained his Ph.D. in Medicinal Chemistry at the University of Bonn. Following postdoctoral stays at the University of Bonn, and at ETH Zurich, he is currently heading a group at TU Dortmund University. His research interests include DNA-encoded library technology, library design, screening, methods for data analysis, and medicinal chemistry.Damian W. Young received a B.S. degree in chemistry (with ACS Certification) from Howard University. He then spent a year working as a process chemist on the anti-HIV drug Fuzeon at Trimeris Inc. before earning a Ph.D. in organic chemistry from North Carolina State University. Following this, he conducted a postdoctoral fellowship at Harvard University and the Broad Institute of MIT and Harvard. He became a Group Leader within the Chemical Biology Program at the Broad. Dr Young is currently the Associate Director for the Center for Drug Discovery at Baylor College of Medicine and a faculty member within the Department of Pharmacology and Chemical Biology. His research is focused on the application of diversity-oriented synthesis to DNA encoded chemistry technology and fragment-based drug discovery.