Louis Kahn: The Importance of a Drawing (Hardcover)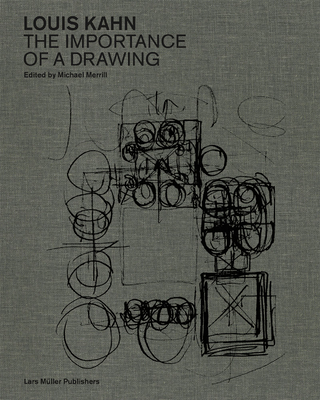 $95.00

Available in our Warehouse: Usually Ships in 3-8 Days
Description
---
An intimate guided journey into Louis Kahn's craft and imagination, this book weaves its texts around the drawings of Kahn and his associates to accompany this master architect on his creative search
"The importance of a drawing is immense, because it's the architect's language," said the architect Louis Kahn to his masterclass in 1967. While most studies of Kahn focus on his built works or theory and use drawings mainly to illustrate these, this publication chooses to focus on Kahn's drawings as primary sources of insight into his architectural intelligence and imagination. Lavishly illustrated with over 900 high-quality reproductions of work by Kahn and his associates, incisively presented by a group of acclaimed architectural experts, The Importance of a Drawing is a deep immersion into Kahn's work and his design process.
A testament to Kahn's masterly craft, this volume also makes a provocative primer on architectural representation by posing timely questions on how architects use drawings to see, learn, conjecture and reveal. Destined to become a standard reference on Kahn, this book is an essential addition to the libraries of established designers as well as students of architecture.
The result of years of extensive research, The Importance of a Drawing contains original contributions and historical texts from Michael Merrill, Michael Benedikt, Michael B. Cadwell, Louis I. Kahn, Nathaniel Kahn, Sue Ann Kahn, David Leatherbarrow, Michael J. Lewis, Robert McCarter, Marshall D. Meyers, Jane Murphy, Harriet Pattison, Gina Pollara, Colin Rowe, David Van Zanten, Richard Wesley and William Whitaker.
Louis Kahn (1901-74) was an Estonian-born American architect who called Philadelphia his home. Trained in the tradition of the cole des Beaux-Arts, Kahn was later able to fuse a progressive modern agenda with the poise of ancient monuments into a work of seminal and lasting importance. His major works include the National Parliament in Dhaka, Bangladesh; the Salk Institute in La Jolla, California; the Kimbell Art Museum in Fort Worth Texas; and the posthumously realized Four Freedoms Park on Roosevelt Island in New York City. Kahn was a revered educator, teaching at the Yale School of Architecture from 1947 to 1957 and then at the University of Pennsylvania until his death.