MRI Parameters and Positioning (Paperback)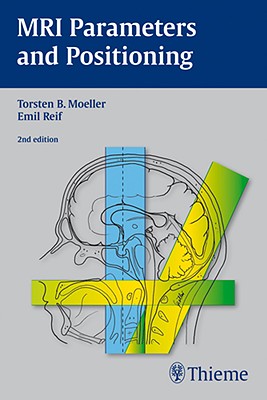 $71.49
This item is not currently available to order.
Description
---
Second edition of a well-known, concise how-to manual of standardized protocols for all routine MRI applications
Packed with information on the practical aspects of MRI, this user-friendly text covers everything from advice on optimal positioning of patients to recommendations for setting the appropriate scanning parameters.
Each consistently organized chapter follows the chronology of a standard procedure - the authors present essential information on preparation and necessary materials first. Then they skilfully guide the readers through special considerations in positioning and coil selection, protocols for conducting the exam, examples of various sequences, and possible modifications. Numerous tips, tricks, and pointers explain how to avoid potential complications.
Highlights of the second edition:
340 high-quality MRI scans and anatomical drawings
New and expanded sections on MR angiography of pulmonary arteries and pelvic and leg vessels; the CARE Bolus Technique; whole-body MRI; and more
Information on the latest protocols for MR urography, cholangiography, and colonography
Consistent chapter structure for maximum accessibility on the job and at the MRI workstation
Each section contains plenty of space on each page for personal notes
A guide to the most important MRI studies, the second edition of MRI Parameters and Positioning is an indispensable companion for all radiologists, radiology residents, and radiologic technologists.
About the Author
---
Emil Reif, MDDepartment of RadiologyMarienhaus Klinikum Saarlouis - DillingenDillingen/Saarlouis, Germany
Praise For…
---
What a clever and practical book is MRI Parameters and Positioning. This is the ideal book for the beginning magnetic resonance (MR) imaging technologist...a great textbook...helpful...makes it easy to access information on any area of the body quickly and efficiently...important but simple directives for positioning...Great stuff!...The appendix alone is truly a treasure...an artfully and thoughtfully presentedd chart of MR acronyms for the major manufacturers...strongly recommend[ed].--Radiologic TechnologyEncompasses all aspects of obtaining various MRI sequences...extremely well done and user friendly...written in easy to understand concepts...useful...The anatomcial drawings were very helpful with illustrating the area that needed to be covered, as well as, positioning for various planes...shared tips and tricks...this book did an exceptional job at conveying to the reader what was pertinent about each protocol...flowed very easily...a great source of information.--American Journal of RoentgenologyA recipe book presenting protocols for most major studies in MR images...The book has a small pocket book format, and is therefore easy to bring along...very welcome for those starting an MR practice...absolutely recommendable.--Acta RadiologicaThis concise manual for radiologists, residents, and technologists details standardized protocols for all routine MRI applications, from the optimal positioning of patients to setting the appropriate scanning parameters. -- BooknewsOverall, I found this book to be a valuable reference and would highly recommend it. Radiology July 2011