The Male Role in Pregnancy Loss and Embryo Implantation Failure (Advances in Experimental Medicine and Biology #868) (Paperback)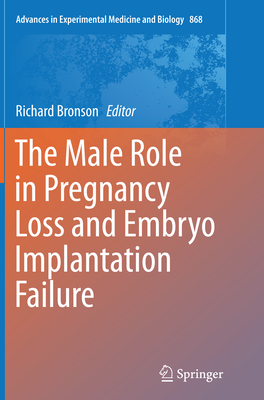 $142.99
This item is not currently available to order.
Description
---
Novel topics compiled in this one-of-a-kind volume provide tantalizing hints for clinical application through future translational research. Only recently have we come to ask what role the male might play in pregnancy loss and embryo implantation failure, beyond contributing an abnormal set of paternal chromosomes at fertilization. This volume explores the recent evidence that these conditions might also be related to the transmission of previously unrecognized chromosomal micro-deletions and duplications, or via the epigenetic dysregulation of early embryonic gene function by spermatozoal microRNAs or alterations in sperm DNA methylation patterning, or by DNA damage secondary to either reactive oxygen species or environmental toxicants. In addition, the composition of seminal plasma has been found to be highly complex, containing many factors that play important roles in altering the uterine environment and the female immune system permissive of embryo implantation and trophectoderm outgrowth leading to successful pregnancy. Coverage includes an examination of both spermatozoa and seminal fluid component factors.
About the Author
---
Dr. Bronson is Professor of Obstetrics & Gynecology and Pathology and Director of Division of Reproductive Endocrinology and the Andrology Laboratory at Stony Brook University Medical Center. While at North Shore University Medical Center, Dr. Bronson and his associates developed an assay to detect the presence of antibodies on human spermatozoa, which is now in world-wide use. He has been active in the American Society of Reproductive Immunology, becoming its President in 1990 and currently serves on its Council. Bronson has served on the editorial boards of the Journal of Reproductive Immunology, the Journal of Andrology, The Pharos, have been an Associate Editor of Human Reproduction and the Editor-in-Chief of the textbook Reproductive Immunology, published by Blackwell. Bronson has been post graduate course director for the American Society of Reproductive Medicine, in 1998 and 2000 and the primary author of 80 peer reviewed papers. Dr. Bronson's recent professional activities include Co-Chairing the 31st Annual Meeting of the American Society for Reproductive Immunology the council on which he serves. He was also named to the Editorial Board of Fertility & Sterility. He is also a published poet, with his work appearing in both literary and medical journals, and two books of his collected poetry.