Von Christus Beauftragt: Ein Biblisches Pladoyer Fur Ordination Und Priesterweihe Von Frauen (Paperback)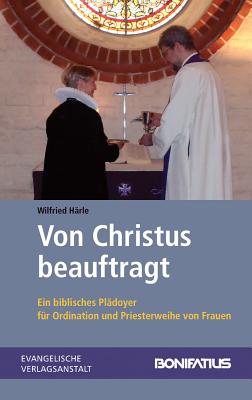 $32.20
This item is not currently available to order.
Description
---
Some 50 years ago the Evangelical Church allowed the ordination of women. The introduction lacked a well-founded theological reasoning and provoked plenty of disputes. At the same time the Dutch Jesuit Haye van der Meer published a comprehensive study on the priesthood of women (1962/1969), concluding that none of the arguments provided enough reason to deny women to be ordained as priests, which to this day has hardly had any impact. In the last two years, however, the discussion has gained momentum: the Anglican Church introduced the ordination of women as priests and bishops, whereas the Lutheran Church in Latvia abolished it. And moreover, Pope Francis recognized Mary Magdalene as a true and authentic evangelizer. How is all of this connected to the biblical and theological foundations of the Christian Churches? In this publication renowned systematic theologian Wilfried Harle (Heidelberg) presents a biblical-theological justification for the ordination of women, which will certainly provide fresh impetus to the ecumenical debate on this important topic.
About the Author
---
Wilfried Harle, Dr. theol., Jahrgang 1941, ist Professor em. fur Systematische Theologie. Nach dem Studium der Evangelischen Theologie in Heidelberg und Erlangen, Promotion und Habilitation lehrte von 1975 bis 2006 an den Universitaten Kiel, Groningen (NL), Marburg und Heidelberg. Parallel dazu war er achtzehn Jahre lang Mitglied und zwolf Jahre lang Vorsitzender der Kammer fur Offentliche Verantwortung der EKD und drei Jahre lang Mitglied der Enquetekommission des Deutschen Bundestages fur Ethik und Recht der modernen Medizin. Seit seiner Emeritierung ist er als Buchautor, Vortragsreisender und Seelsorger am Augustinum in Stuttgart-Killesberg tatig.