Geschichte ALS Argumentationsfeld Fur Die Gegenwart: Arbeiten Zur Luther- Und Muntzerrezeption (Herbergen Der Christenheit #23) (Paperback)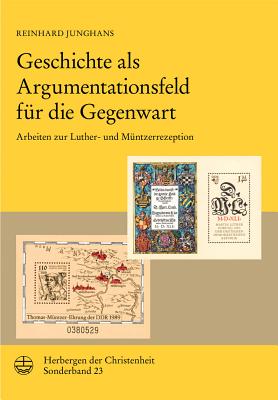 $47.25
This item is not currently available to order.
Description
---
Church and state movements used Luther and Muntzer's theological concepts to serve their own interests. For them, the historical figures Luther and Muntzer played a subordinate role. Consequently the influence of the historical figures was fading in relation to the recipient's intention to find suitable answers for his own time. Thereby the recipient became an active part of the reception process which led to the increasing preference of the term reception history over the term 'Wirkungsgeschichte' (history of effects). This analytical shift allows for a balanced evaluation, incorporating historical reality as well as an analysis of the recipient's contemporary context.
About the Author
---
Junghans, Reinhard, Dr. theol, Jahrgang 1960, studierte in Leipzig Theologie. Er war als Pfarramtsleiter in Leipziger Kirchgemeinden tatig, seit 2014 ist er Studieninspektor am Evangelischen Studienhaus in Leipzig-Stotteritz. Nebenher ist Jungshans in der reformationsgeschichtlichen Forschung aktiv, er arbeitete an einem Forschungsprojekt zur protestantischen Katechismusgeschichte bei der Hanns-Lilje-Stiftung.