My Angels Coloring Book for Christmas: Fun Angels Pages For Boys And Girls Ages 2-8 I Cute Angels To Coloring For Toddlers, Celebrate This Day With Sa (Paperback)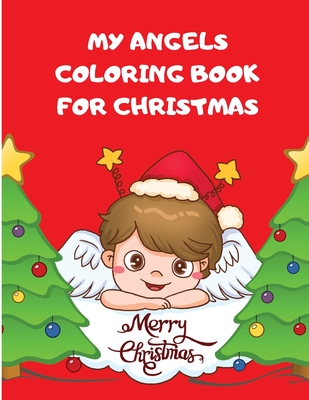 $11.99
This item is not currently available to order.
Description
---
Give your child a funny Christmas with the most beloved characters: CUTE ANGELS This coloring book is both fun and educational, with 48 exciting pictures for your child to color in and let his or her developing imagination run wild. I will briefly present 10 of the great benefits for your dear child that you will find in this coloring book with angels:
1. It is the first training for writing - through coloring, your child learns, first of all, to hold the coloring tool correctly in his hand;
2. It helps to develop coordination skills by simply choosing the right color for his/her creation;
3. Teaches your little one what patience is all about - nothing compares to the satisfaction and smile on your child's face after they have finished a coloring page and come to show you their little work of art;
4. Improves concentration - according to studies, children who color frequently find it easier to concentrate and can stay attentive for more extended periods;
5. It helps your child learn new things and become familiar with some insects, domestic or even wild animals;
6. It helps your little one develop self-confidence;
7. Facilitates the development of motor skills - as they color, the muscles in your child's palms and wrists develop, which helps them in the future to use other small objects;
8. Stimulates creativity
9. Encourages self-expression - as a parent, you can tell your child's personality by the colors used (for example, if he/she uses predominantly dark colors, this indicates a certain sadness, while the use of bright colors shows that the child is happy and confident);
10. It has a therapeutic effect - it has been shown that by coloring, the child can very quickly release anger and minor frustrations;
It is also ideal as a gift idea for a friend's child, a neighbor's child, or even your grandchild, whatever the occasion.
Give your child joy today and enter with him in the magic of Christmas by buying this magical coloring book because your child gives you charm every day
Suitable for toddlers, preschoolers, and kids
We have created something special which we are very proud of. This lovingly created coloring book also makes thoughtful Christmas gifts or presents for friends or family.
Technical information:
- 100 pages printed on one side only to avoid bleeding
- 48 big pictures of cute angels
- Size: 8.5x11 inch- Size: 8.5x11 inch.