Marco Polo Dublin [With Pull-Out Map] (Marco Polo Guides) (Paperback)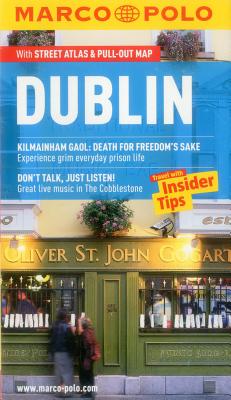 $10.99
This item is not currently available to order.
Description
---
MARCO POLO Dublin: the Travel Guide with Insider Tips With this up-to-date, authoritative guide you can experience all the sights and Best Of recommendations of Dublin: lovely hotels, authentic restaurants, trendy places and entertainment venues. You'll also get tips on what to do on a limited budget, shopping ideas, suggestions for travel with kids and an overview of exciting festivals and events in the Irish capital. Also contains: Travel Tips, Links, Blogs, Apps & More and a comprehensive index. Dublin is pretty much at the top of the list of European destinations for a city break, and the reasons are clear: the Irish are a small people with a large image. With MARCO POLO Dublin you'll discover a city which concentrates everything you'd expect of a proud nations capital in the smallest area. With this practical travel guide, small enough to slip into your pocket, you can experience at first hand Irish pub culture and the unmistakable music in countless pubs. There are museums where you can marvel at the country's treasures. The magnificent greenery in one of the largest inner-city parks in the world and walks by the coast provide relief and relaxation from the pulsating night life. Enjoy the pleasures of some retail therapy and look forward to creative and modern food. The MARCO POLO Insider Tips tell you where first class bands are appearing in back rooms and how you can avoid the shocking restaurant prices in Dublin. The Perfect Day takes you on a tour through the city during which you'll be able to experience Dublin's various features quickly and easily. The Best Of pages tell you what's unique to Dublin as well as great places for free, the best tips on where to relax and chill out, and plenty of ideas for rainy days. The Walking Tours guide you through times good and bad. Walk the path of Ireland's route to independence or spend the morning getting a sense of everyday Dublin. The Dos and Don'ts advise you why buying a round is so important for pub culture, and why a glance in the wrong direction can be life threatening. MARCO POLO Dublin gives comprehensive coverage of all the city's districts. To help you find your way around there's a detailed street atlas and practical map inside the back cover, with public transport map and removable pull-out map.
About the Author
---
Marco Polo Travel Publishing offers a wide range of high quality cartographic products and travel guides. Marco Polo Pocket Guides are known for their handy, compact format and Insider Tips. Our Travel Handbooks are the first to include infographics and our Spiral Guides feature unique lay-flat spiral binding.Marco Polo Maps are famous for the high quality of cartography in their Country, City and Holiday Maps.