Madrid Marco Polo Spiral Guide (Marco Polo Spiral Guides) (Paperback)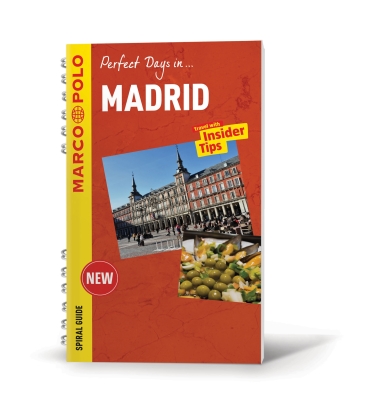 $16.99
This item is not currently available to order.
Description
---
For advice you can trust, look no further than Marco Polo. Madrid Marco Polo Spiral Guide is a compact travel guide for people who have little time to prepare for a trip, don't want to miss anything, like to be inspired by great ideas for exciting days out and love all things ultra-practical and easy to use. Inside the Madrid Marco Polo Spiral Guide: Top 10 sights: We highlight the most important sights and sites of the wonderful city of Madrid, capital of Spain. The Madrid Feeling gives tips to help you experience the essence of this grand European city. From football to fiestas, the Prado to the Palacio let Marco Polo help you get under the skin of Madrid to see what makes it tick. The Magazine section provides an interesting and entertaining account of life in the Madrid. This guides digs deep into the history to see what shaped modern Madrid. Don't miss: Each chapter highlights the absolute must-sees for each area and what to do at your leisure if time permits. In the five chapters organized by region and city, each chapter provides restaurant recommendations, the best shopping streets and the hottest places to go for a night out. Perfectly planned itineraries take you through the essence of Madrid. All you need to do is decide whether you want to travel on foot, by bike, car or public transport for perfect days out on this grand city. Detailed 3D graphics take you into the heart of Madrid's architecture giving you a real flavour of the splendour of Madrid. Street Atlas & pull out map: The best of both worlds Some people prefer an atlas while others prefer a separate map - Marco Polo Spiral Guides have both. Top 10 reasons to come back: For those undecided about a return visit... there is a list of Top 10 reasons to come back again.
About the Author
---
Marco Polo Travel Publishing offers a wide range of high quality cartographic products and travel guides. Marco Polo Pocket Guides are known for their handy, compact format and Insider Tips. Our Travel Handbooks are the first to include infographics and our Spiral Guides feature unique lay-flat spiral binding. Marco Polo Maps are famous for the high quality of cartography in their Country, City and Holiday Maps.