Video Blogging: The Essential Guide On How You Can VLOG Your Way to Millions, Discover the Ways on How You Can Profit From Your Own Vi (Paperback)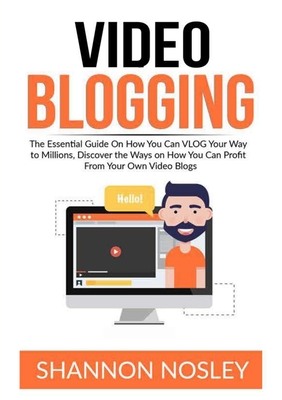 $19.97

Available in our Warehouse: Usually Ships in 3-8 Days
Description
---
Video Blogging: The Essential Guide On How You Can VLOG Your Way to Millions, Discover the Ways on How You Can Profit From Your Own Video Blogs
There has been an increase in popularity for video blogging in recent years but there are still some people who are not familiar with it. Video blogging is the same as blogging but the message is communicated via a video instead of texts or words. Video blogs or vlogs for short are gaining popularity because they are more engaging to their audience since it's in video format and it is also more mobile-friendly. It helps build connections with your viewers better than a traditional blog because they can see the face behind the content.
Once you're comfortable in the whole process of posting your video blogs, you can start making money from them.
This book will teach you all the information you need about video blogging. You will discover how to set up a video blog and how to create interesting content that will make your video blog profitable. It will give you tips on how you can create your video blog that would make sure your audience would keep coming back for more.
In this book, the following topics will be discussed:
What is Video Blogging?
Why You Should Start a Video Blog
How to Start a Video Blog
Profit From Your Video Blog
Promoting Your Blog
Things to Remember
If you like the idea of blogging but dislike writing, this can be a perfect medium for you. Plus a lot of people now prefer watching vlogs than reading blog text so starting your own vlog is perfect timing now.
If you want to try video blogging but is not quite sure how to go about it, this book is the perfect guide for you. scroll up and click "add to cart" now.