Bioformulations: For Sustainable Agriculture (Hardcover)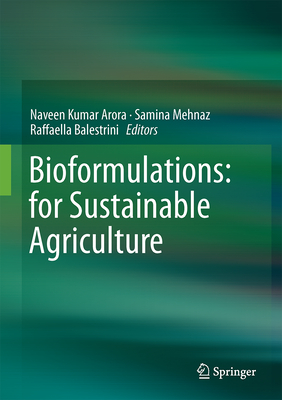 $285.99
Available in our Warehouse: Usually Ships in 3-8 Days
Description
---
More than a century has passed since the first bioformulations were introduced to the market. But there is still much to be done, explored and developed. Though bioformulations offer green alternatives and are important for sustainable agriculture, they make up only a small fraction of the total additions used to enhance crop yields or protect them from pests. There is a great need to develop bioformulations that can promote confidence among end users; accordingly, it is imperative that bioformulations to replace chemicals be reliable and overcome the shortcomings of the past.
Bioformulations: for Sustainable Agriculture discusses all the issues related to the current limitations and future development of bioformulations. It examines in detail those bioformulations that include biofertilizers and biopesticides (also commonly known as bioinoculants), presenting a global picture of their development. Further chapters address diverse microbes that are already being or could be used as bioformulations. The book also discusses the techniques, tools and other additions required to establish bioformulations as trustworthy and global solutions. It assesses the types of bioformulations currently available on the market, while also considering the future roles of bioformulations, including the reclamation of marginal and polluted soils. Further, it discusses the current legislation and much-needed amendments. Overall the book provides a comprehensive outlook on the status quo of bioformulations and the future approaches needed to improve them and achieve sustainable agriculture and food security without sacrificing the quality of soils. This will be extremely important in offering chemical-free foods and a better future for generations to come.
About the Author
---
Dr Naveen Kumar Arora, PhD Microbiology, Associate Professor in Department of Environmental Microbiology, Babasaheb Bhimrao Ambedkar University (A Central University), Lucknow, Uttar Pradesh, India is a renowned researcher in the field of Environmental Microbiology and Biotechnology. His specific area of research is rhizosphere biology and PGPRs. He has 38 research papers published in premium international journals and several articles published in magazines and dailies. He is editor of the book 'Plant Microbe Symbiosis: Fundamentals and Advances', published by Springer. He is member of several national and international societies and reviewer of several international journals. He has delivered lectures in conferences and seminars around the globe. He has a long standing interest in teaching at the PG level and is involved in taking courses in bacteriology, microbial physiology environmental microbiology, agriculture microbiology and industrial microbiology. He has been advisor to 57 post graduate and 03 doctoral students. Recently he was awarded for excellence in research by the Honorable Governor of Uttar Pradesh. Although an academician and researcher by profession he has a huge obsession for the wildlife and its conservation and has authored a book, Splendid Wilds. He has a dedicated website www.naveenarora.co.in for the cause of wildlife and environment conservation.Raffaella Balestrini, PhD in Biology and Biotechnology of Fungi, Senior Researcher at the Institute for Sustainable Plant Protection, CNR. Researches mainly focus on different aspects of plant-symbiotic fungi interactions (endo and ectomycorrhizae). Researches currently developed, using molecular and cellular approaches including confocal microscope, in situ hybridization and laser microdissection (LMD), are: genomics and functional genomics in mycorrhizal fungi; cellular and molecular interactions between plants and mycorrhizal fungi, with particular attention to plant and fungal cell wall modifications; plant-mycorrhizal fungi interactions to improve plant tolerance to abiotic stress; transcriptome profiles of specific cell types involved in mycorrhizal symbiosis. Involved in the black truffle Tuber melanosporum genome project as the person in charge of the annotation of cell wall-related genes and, thanks to the experience in gene expression and cell biology studies in mycorrhizal associations, in post-genomic activities. She has worked with research groups from national and international institutions in joined research projects, as mirrored by the several papers in collaboration. She is referee for several international journals and project proposals. She has 68 publications in international journals and 6 book chapters to her credit.Dr Samina Mehnaz, PhD Microbiology, is a Professor and Chairperson of Department of Biological Sciences, Forman Christian College (A Chartered University), Lahore, Punjab, Pakistan. She is a researcher, in the field of Microbiology. Her specific area of interest is rhizosphere microbiology, specifically PGPRs and their secondary metabolites. She has 34 research papers published in international journals and four book chapters (as a single author) published by Springer. Currently, she is editor of Archives of Phytopathology and Plant Protection (Taylor & Francis). She is reviewer of several international journals. She is the continuous winner of research productivity award since 2010, by Pakistan Council of Science and Technology. She is Alexander von Humboldt (AvH) Fellow (Germany) and National Science and Engineering Research Council (NSERC) Fellow (Canada). She has been advisor to 9 post graduate, 3 doctoral students and one post doctorate fellow.