Operación Masacre (Paperback)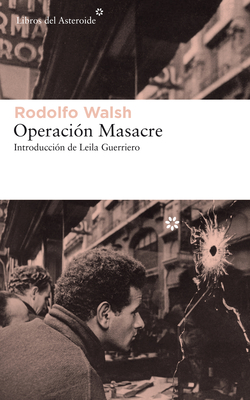 $15.99
This item is not currently available to order.
Description
---
In Argentina in 1956, a failed coup against the military government that removed Juan Perón from office a year before triggered a clandestine operation directed to eliminate people opposed to the regime. In a garbage dump on the outskirts of the capital, a group of civilians were shot before martial law was decreed. In the weeks that followed, a rumor spread throughout the city that some of them had survived. Walsh managed to find one of these alleged survivors, and after listening to his testimony began a dangerous and obsessive investigation to find the truth. His findings were published in the newspaper Mayoría and later in the form of this book. 

«Hay un fusilado que vive», esta frase oída a finales de 1956 en un café de La Plata puso a Rodolfo Walsh tras la pista de un oscuro asunto de Estado que le cambiaría la vida. En junio de ese año, un fallido intento revolucionario contra el régimen militar que había destituido a Perón un año antes desencadenó una operación clandestina para eliminar a los opositores al régimen. En un basurero de las afueras de la capital, un grupo de civiles fueron fusilados antes incluso de decretarse la ley marcial. Durante semanas corrió el rumor de que alguno de ellos había sobrevivido. Walsh pudo localizar a uno de esos supuestos supervivientes y tras escuchar su testimonio comenzó una arriesgada y obsesiva investigación que desmentiría la versión oficial sobre los hechos y documentó un caso de terrorismo de Estado. El fruto de estos trabajos se publicaría por entregas en el diario Mayoría y muy poco después, en 1957, como libro.

Operación Masacre es un largo reportaje que se lee como una novela y supone el hito fundacional del periodismo narrativo en Latinoamérica.
About the Author
---
Rodolfo Walsh was an Argentine writer and journalist who was disappeared in 1977 by the Argentine military dictatorship. He was one of the first Latin American writers to use novelistic techniques in journalism. His nonfiction works include Operación Masacre and ¿Quién mató a Rosendo?