Cuentos españoles de hoy y de siempre / Traditional Stories from Spain (Hardcover)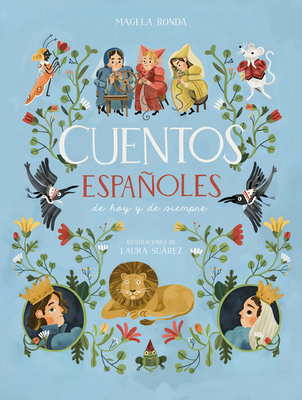 Description
---
Una deliciosa colección de cuentos tradicionales españoles para leer en familia. 

Los mejores cuentos clásicos españoles, transmitidos de generación en generación hasta nuestros días. Esta antología ilustrada y a todo color recoge una veintena de cuentos tradicionales que harán las delicias de grandes y pequeños. «Las tres naranjas», «Juan Sin Miedo», «Mariquita y sus siete hermanos», «Las  bodas del tío Perico» o «El castillo de Irás y No Volverás» son solo algunos de los relatos que se recogen en este libro. Una preciosa antología recopilada por Magela Ronda e ilustrada por Laura Suárez. Un delicioso compendio ilustrado para no perder la tradición que nos define.   

ENGLISH DESCRIPTION

A lovely collection of traditional stories from Spain to read as a family.

The best classic stories from Spain, handed down from generation to generation. This illustrated and full-color anthology collects a score of traditional stories that will delight young and older readers. "The Three Oranges", "Fearless Juan", "Ladybug and Her Seven Brothers", and "Uncle Perico's Weddings" are just some of the stories gathered in this collection. A beautiful anthology compiled by Magela Ronda and illustrated by Laura Suarez. A deliciously illustrated collection to help keep our traditions alive.
About the Author
---
Magela Ronda (Benidorm, 1970) miope desde muy temprana edad, aprendió a sobrevivir observando el mundo desde otras realidades. Suele tropezar a menudo en aceras despejadas y pasillos vacíos con alguno de sus muchos «yoes» que habitan otros universos y que de vez en cuando le esconden ideas en los bolsillos. Fruto de esos regalos son libros como Búscalo...¡en el espacio!, El lenguaje de las olas, Violeta o Bruce Springsteen, de Greetings from Asbury Park a la tierra prometida. Su pasatiempo favorito es encontrar conexiones imposibles y camuflar sus querencias (que no desvelaremos) en las páginas de los libros que publica.