Sapiens: Volumen I: El nacimiento de la humanidad (Edición gráfica) / Sapiens: A Graphic History: The Birth of Humankind (Hardcover)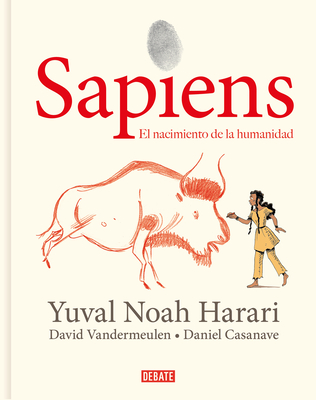 $24.95
This item is not currently available to order.
Description
---
Bestseller del New York Times.

La edición gráfica del libro de no ficción más vendido de los últimos años. Recomendado por el Presidente Obama y por Bill Gates.

El historiador y filósofo más influyente de la actualidad nos narró de forma extraordinaria la compleja trama de la historia de la humanidad en su libro Sapiens. De animales a dioses. Con la ayuda de David Vandermeulen y las maravillosas ilustraciones de Daniel Casanave, este otoño publicamos Sapiens. El nacimiento de la humanidad, la adaptación gráfica de un best seller internacional que lleva quince millones de ejemplares vendidos en todo el mundo.

Una historia en imágenes que pretende acercarse a las nuevas generaciones y contribuir a explorar las formas en que la biología y la historia nos han definido y han mejorado nuestra comprensión de lo que significa ser «humano».

ENGLISH DESCRIPTION

Instant National Bestseller

The first volume of the graphic adaptation of Yuval Noah Harari's smash #1 New York Times and international bestseller recommended by President Barack Obama and Bill Gates, with gorgeous full-color illustrations and concise, easy to comprehend text for adult and young adult readers alike.

One hundred thousand years ago, at least six different species of humans inhabited Earth. Yet today there is only one—homo sapiens. What happened to the others? And what may happen to us?

In this first volume of the full-color illustrated adaptation of his groundbreaking book, renowned historian Yuval Harari tells the story of humankind's creation and evolution, exploring the ways in which biology and history have defined us and enhanced our understanding of what it means to be "human." From examining the role evolving humans have played in the global ecosystem to charting the rise of empires, Sapiens challenges us to reconsider accepted beliefs, connect past developments with contemporary concerns, and view specific events within the context of larger ideas. 

Featuring 256 pages of full-color illustrations and easy-to-understand text covering the first part of the full-length original edition, this adaptation of the mind-expanding book furthers the ongoing conversation as it introduces Harari's ideas to a wide new readership.
About the Author
---
YUVAL NOAH HARARI (Haifa, 1976) es historiador, filósofo y autor de los éxitos de ventas internacional Sapiens, Homo Deus y 21 lecciones para el siglo XXI. Sus libros han vendido veinticinco millones de ejemplares en todo el mundo.