Don Quijote de la Mancha. Edición RAE / Don Quixote de la Mancha. RAE (EDICIÓN CONMEMORATIVA DE LA RAE Y LA ASALE) (Hardcover)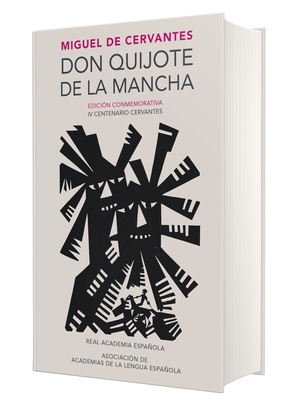 $15.95

Available in our Warehouse: Usually Ships in 3-8 Days
Description
---
Nominada por los estadounidenses como una de las 100 mejores novelas en la serie de PBS The Great American Read

La RAE, la ASALE y Alfaguara reeditan la edición conmemorativa del Quijote con prólogo inédito de Darío Villanueva

EDICION LIMITADA Hace diez años, las academias de la lengua española pensaron un Quijote para todos. Hoy se reedita —en edición limitada— para conmemorar los cuatrocientos años de la muerte de Cervantes.

En los años 2015 y 2016 confluyen dos aniversarios cervantinos. A la celebración del IV Centenario de la Publicación de la Segunda Parte del Quijote (2015), le seguirá, en 2016, la conmemoración del IV Centenario de la Muerte de Miguel de Cervantes. Como ocurrió hace más de una década, las academias de la lengua española y la editorial Alfaguara se unen a esta celebración con una reedición de este clásico universal dirigida a todo el ámbito hispanohablante.

Esta edición cuenta con un nuevo prólogo, escrito por Darío Villanueva, director de la Real Academia Española (RAE) y presidente de la Asociación de Academias de la Lengua Española (ASALE), especialmente para la ocasión. Se completa con un glosario formado por siete mil palabras, locuciones, frases proverbiales y refranes, explicados según el significado preciso que tienen en el texto cervantino.

La primera edición de este Quijote se convirtió en un gran éxito de ventas, sin precedentes en una obra clásica. Más de tres millones de ejemplares, distribuidos en España y América, la convirtieron en la más difundida de la historia. A conseguir su carácter divulgativo y su orientación hacia un público diverso y no especializado, contribuyen especialmente las notas contextualizadoras de la obra, preparadas por Francisco Rico. También se incluyen una serie de estudios complementarios, escritos por algunos de los principales expertos en el gran libro cervantino.

Así, Mario Vargas Llosa analiza la modernidad del Quijote en «Una novela para el siglo xxi»; Francisco Ayala reflexiona sobre la construcción de los personajes de la novela en «La invención del Quijote», y Martín de Riquer analiza la obra en el contexto biográfico del autor en «Cervantes y el Quijote». Por su parte, José Manuel Blecua («El Quijote en la historia de la lengua española»), Guillermo Rojo («Cervantes como modelo lingüístico»), José Antonio Pascual («Los registros lingüísticos del Quijote: la distancia irónica de la realidad»), Margit Frenk («Oralidad, escritura, lectura») y Claudio Guillén («Cauces de la novela cervantina: perspectivas y diálogos») abordan distintos aspectos relacionados con la lengua española en la obra cervantina.

A todos ellos se une en esta ocasión el actual director de la RAE, Darío Villanueva, que ha querido «aprovechar la oportunidad de oro que me ofrece hoy la nueva salida de esta edición [...] para dar una explicación —mi explicación— de algunos de los porqués del tan alto reconocimiento que el Quijote ha obtenido desde la fecha de su publicación hasta hoy, así como su palmaria modernidad», antes de recordar que el Quijote fue la obra elegida, en 2002, como la mejor novela de todos los tiempos, por delante de En busca del tiempo perdido, de Proust, y de Guerra y paz, de Tolstoi, en una encuesta realizada por la Asociación de Escritores de Suecia entre cien autores de todo el mundo.


ENGLISH DESCRIPTION

Nominated as one of America's best-loved novels by PBS's The Great American Read

Ten years ago, the Academies of the Spanish Language conceived of a Don Quixote for everyone. Now, it is being re-released—in a limited edition—to commemorate the 400th anniversary of Cervantes's death.

2015 and 2016 bring with them two special Cervantes anniversaries. The celebration of the 400th Anniversary of the Publication of the Second Part of Don Quixote in 2015 will be followed in 2016 by the Commemoration of the 400th Anniversary of Miguel de Cervantes's Death. As they did more than a decade ago, the Academies of the Spanish Language and Alfaguara unite for this celebration with a re-edition of the universal classic directed at the whole Spanish-speaking world.

This edition boasts a new prologue written specially for the occasion by Darío Villanueva, the director of the Real Academia de la Lengua Española (RAE) (RAE) and president of the Asociación de Academias de la Lengua Española (ASALE). It is complemented by a glossary made up of seven thousand words, expressions, phrases and proverbs, each explained according to its precise meaning in Cervantes's text.

The first edition of this Quixote became a huge sales success, unprecedented for a classic work. More than three million copies, distributed in Spain and the Americas, made it the most widespread in history. The contextualizing notes about the work, prepared by Francisco Rico, contribute to its educational character and its orientation toward a diverse and non-specialized public. It also includes a series of complementary studies, written by some of the primary experts in Cervantes's consummate book.

As such, Mario Vargas Llosa analyzes the modernity of Don Quixote in "A Novel for the 21st Century;" Francisco Ayala reflects upon the construction of the novel's characters in "The Invention of the Quixote;" and Martín de Riquer analyzes the work in the biographical context of the author in "Cervantes and Quixote."

For their part, José Manuel Blecua ("Don Quixote in the History of the Spanish Language"), Guillermo Rojo ("Cervantes as a Linguistic Model"), José Antonio Pascual ("The Linguistic Registers of Don Quixote: The Ironic Distance from Reality"), Margit Frenk ("Orality, Writing, Reading"), and Claudio Guillén ("The Course of Cervantes's novel: Perspectives and Dialogues") deal with different aspects related to the Spanish language in Cervantes's work.

Joining all this is the current director of the Real Academia de la Lengua Española (RAE), Darío Villanueva, who wants to "take advantage of the golden opportunity that the release of this new edition offers [...] to give an explanation—my explanation—of some of the reasons for the high recognition that Don Quixote has gained from the date of its publication until today, as well as its clear modernity," before reminding us that Don Quixote was the work chosen in 2002 as the best novel of all time, even ahead of In Search of Lost Time by Proust and War and Peace by Tolstoy, in a survey conducted by the Swiss Writers' Association of 100 authors from around the world.
About the Author
---
Miguel de Cervantes (1547-1616) ejerció las más variadas profesiones antes de dedicarse plenamente a la literatura. Entró en Roma al servicio del cardenal Acquaviva, fue soldado en la batalla de Lepanto (1571), estuvo cinco años cautivo en Argel y ejerció como comisario real de abastos para la Armada Invencible. Tales oficios le reportaron una experiencia humana que supo plasmar magistralmente en todas sus obras. De su producción poética cabe destacar Viaje del Parnaso (1614), un verdadero testamento literario y espiritual. En el campo teatral cultivó la tragedia, la tragicomedia, la comedia y el entremés. Pero sin duda es en el terreno de la narrativa donde Cervantes se impuso a sus contemporáneos y obtuvo logros que le valdrían el título de creador de la novela moderna, con libros como La Galatea (1585), El ingenioso hidalgo don Quijote de la Mancha (1605), Novelas ejemplares (1613), El ingenioso caballero don Quijote de la Mancha (segunda parte de su obra cumbre, 1615) y, póstumamente, Los trabajos de Persiles y Sigismunda (1617).