Ortotipografía para diseñadores (Paperback)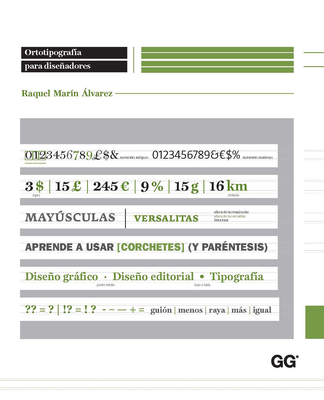 $26.95
This item is not currently available to order.
Description
---
What's the difference between angle quotes, single quotes, and double primes, and when should each one be used? How do you tell hyphens, dashes, and minus signs apart? And how do you emphasize a word in a headline—with italics, bold, or quotes? For graphic designers who have run across these questions, this is the first ortho typography manual intended specifically for design professionals. This essential reference guide addresses the most frequent questions and problems designers face when making decisions about typographical syntax.
 
¿Qué diferencia hay entre las comillas latinas («»), inglesas (??), simples (??), mecanográficas (") y la doble prima ('')? ¿Cuándo debemos usar cada una de ellas? ¿Cómo distinguir entre el guión (-), la raya (?) y el signo menos (?)? ¿Cómo se destaca una palabra en un titular? ¿En cursiva, en negrita, «entre comillas»? Si eres diseñador gráfico y en alguna ocasión te has topado con alguna de estas dudas, este es tu libro: el primer manual de ortotipografía pensado específicamente para los profesionales del diseño. La palabra ortotipografía refiere al conjunto de reglas que determinan el uso lingüísticamente correcto de la tipografía. Para el profesional de la comunicación su conocimiento es imprescindible, no solo para saber aplicar sus normas con corrección, sino también para poder explotar con rigor el potencial expresivo ?visual y lingüístico? de cualquier familia tipográfica. Con un estilo ameno y directo y el apoyo de una amplísima muestra de ejemplos, este libro aborda los problemas y dudas ortotipográficos que suelen asaltar con más frecuencia al diseñador e incide en las cuestiones de diseño que se solapan con la corrección ortotipográfica. Esta guía se convertirá en un manual de cabecera imprescindible para el profesional de la comunicación gráfica.
 
About the Author
---
Raquel Marín Álvarez is a Spanish graphic designer. She is the founder of Lalolagráfica, a graphic design studio that specializes in editorial and typographical design.