García Lorca: La casa de Bernarda Alba / The House of Bernarda Alba (Paperback)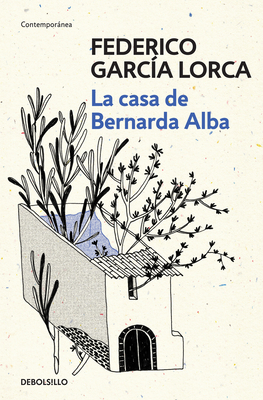 List Price: $10.95
Our Price: $7.95
(Save: $3.00 27%)
Description
---
Fruto capital del universo lorquiano, esta obra sin parangón recoge la historia de Bernarda Alba, enviudada por segunda vez a los sesenta años, y de sus hijas, obligadas a sumirse en un luto que desencadenará la tragedia.

Considerada la obra más madura de Lorca, La casa de Bernarda Alba cierra la llamada trilogía de la tragedia -formada también por Bodas de sangre y Yerma-. Su carácter realista y la opresión en el pecho que se siente ante la represión de unas mujeres atrapadas en un frío infierno de luto, celos, silencio y sueños truncados se ha interpretado como un presagio de los oscuros tiempos que se avecinaban y en los que el propio Lorca se convertiría en una víctima prematura.

No obstante, la presente edición contrapone este texto tan magnífico como terrible a Los sueños de mi prima Aurelia, una comedia inacabada inspirada en la infancia del poeta y dramaturgo, que nos demuestra que no habíaabandonado la ironía y el sentido del humor.

Vicente Aleixandre dijo...
«Su corazón no era ciertamente alegre. Era capaz de toda la alegría del Universo; pero su sima profunda, como la de todo gran poeta, no era la de la alegría. Quienes le vieron pasar por la vida como un ave llena de colorido, no le conocieron.»

ENGLISH DESCRIPTION

Bernarda Alba is orthodox, overbearing, and single minded. She has complete control over her five daughters until the wealth of her eldest daughter, Angustias, attracts a suitor.

Her other daughters are jealous that Angustias—who is almost forty and is homely and sickly—is getting married and escaping the tyrannical reach of their mother. All of Bernarda's other daughters dream of escaping that house too, and some of them are willing to do anything to get away. Tensions rise as the sisters forsake their family ties and compete against each other for the one thing that can save them from their mother's rule: a man.
About the Author
---
Federico García Lorca nació en Fuente Vaqueros (Granada) el 5 de junio de 1898, y murió fusilado en agosto de 1936. En 1919 estuvo en Madrid, en la Residencia de Estudiantes, conviviendo con parte de los poetas que después formarían la Generación del 27. Se licenció en derecho en el año 1923 en la Universidad de Granada, donde también cursó estudios de filosofía y letras. Viajó por Europa y América y, en 1932, dirigió la compañía de teatro La Barraca. Sus obras poéticas más emblemáticas son el Romancero Gitano(1927), donde el lirismo andaluz llega a su cumbre y universalidad, y Poeta en Nueva York (1940), conjunto de poemas, adscritos a las vanguardias de principios del siglo XX, escritos durante su estancia en la Universidad de Columbia. Entre sus obras dramáticas destacan Bodas de sangre, La casa de Bernarda Alba y Yerma.