Los cuatro vientos / The Four Winds (Paperback)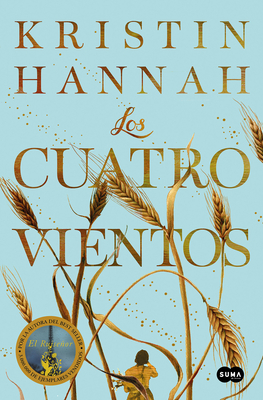 $19.95

Available in our Warehouse: Usually Ships in 3-8 Days
Description
---
De la autora de El Ruiseñor, una épica y emocionante novela de amor, heroísmo y esperanza.


Texas, 1921. La Gran Guerra ha terminado y Estados Unidos parece entrar  en una nueva era de optimismo y abundancia. Pero para Elsa, considerada  demasiado mayor para casarse en una época en la que el matrimonio es la  única opción de una mujer, el futuro es incierto. Hasta la noche en que  conoce a Rafe Martinelli y decide cambiar la dirección de su vida. Con  su reputación arruinada, solo le queda una opción respetable: casarse con un hombre al que apenas conoce.

En 1934, el mundo ha cambiado. Millones de personas se han quedado sin trabajo y los granjeros luchan por conservar sus tierras. Las cosechas  se pierden por la sequía, las fuentes de agua se secan y el polvo  amenaza con enterrarlo todo. Cada día en la granja de los Martinelli es  una desesperada batalla por la supervivencia. Y, como tantos otros, Elsa  se ve obligada a tomar una agónica decisión: luchar por la tierra que  ama o marchar al Oeste, a California, en busca de una vida mejor para su familia.
*Número 1 en la lista de más vendidos de The New York Times
*Número 1 en la lista de más vendidos de USA Today
*Una de «Las novedades más esperadas de 2021» -Newsweek
*Una de «Las 27 novelas de ficción histórica más esperadas de 2021 que te atraparán» -Oprah Magazine
*Uno de «Los libros más esperados de 2021» -Parade
*Uno de «Los libros de los que hablará todo el mundo en 2021» -PopSugar
*Uno de «Los 57 libros más esperados de 2021» -Elle
*Uno de «Los 32 grandes libros para comenzar el año» -Refinery29
*Uno de «Los 25 mejores libros que llegarán en 2021» -BookBub
*Uno de «Los libros más esperados de 2021» -Frolic
ENGLISH DESCRIPTION#1 NEW YORK TIMES BESTSELLER#1 USA TODAY BESTSELLER#1 WALL STREET JOURNAL BESTSELLER#1 INDIE BESTSELLER"The Four Winds seems eerily prescient in 2021 . . . Its message is galvanizing and hopeful: We are a nation of scrappy survivors. We've been in dire straits before; we will be again. Hold your people close."―The New York Times"A spectacular tour de force that shines a spotlight on the indispensable but often overlooked role of Greatest Generation women."―People"Through one woman's survival during the harsh and haunting Dust Bowl, master storyteller, Kristin Hannah, reminds us that the human heart and our Earth are as tough, yet as fragile, as a change in the wind." ―Delia Owens, author of Where the Crawdads Sing
From the number-one bestselling author of
The Nightingale
and
The Great Alone
comes a powerful American epic about love and heroism and hope, set during the Great Depression, a time when the country was in crisis and at war with itself, when millions were out of work and even the land seemed to have turned against them.
"My land tells its story if you listen. The story of our family."
Texas, 1921. A time of abundance. The Great War is over, the bounty of the land is plentiful, and America is on the brink of a new and optimistic era. But for Elsa Wolcott, deemed too old to marry in a time when marriage is a woman's only option, the future seems bleak. Until the night she meets Rafe Martinelli and decides to change the direction of her life. With her reputation in ruin, there is only one respectable choice: marriage to a man she barely knows.
By 1934, the world has changed; millions are out of work and drought has devastated the Great Plains. Farmers are fighting to keep their land and their livelihoods as crops fail and water dries up and the earth cracks open. Dust storms roll relentlessly across the plains. Everything on the Martinelli farm is dying, including Elsa's tenuous marriage; each day is a desperate battle against nature and a fight to keep her children alive.
In this uncertain and perilous time, Elsa―like so many of her neighbors―must make an agonizing choice: fight for the land she loves or leave it behind and go west, to California, in search of a better life for her family.
The Four Winds
is a rich, sweeping novel that stunningly brings to life the Great Depression and the people who lived through it―the harsh realities that divided us as a nation and the enduring battle between the haves and the have-nots. A testament to hope, resilience, and the strength of the human spirit to survive adversity, The Four Winds is an indelible portrait of America and the American dream, as seen through the eyes of one indomitable woman whose courage and sacrifice will come to define a generation.
About the Author
---
Kristin Hannah es autora de más de veinte novelas de gran éxito por las que ha recibido numerosos premios y de las que se han vendido más de quince millones de ejemplares en todo el mundo. Los best sellers El Ruiseñor y Volverás a Alaska fueron elegidos como Mejor Novela Histórica por Goodreads en 2015 y 2018. El Ruiseñor, que está siendo adaptado al cine, ganó el codiciado People's Choice Award a la mejor novela. El baile de las luciérnagas se ha convertido en una exitosa serie de Netflix. Kristin estudió Derecho antes de convertirse en escritora profesional y es madre de un hijo. Vive con su marido en la región del Pacífico Noroeste de Estados Unidos, cerca de Seattle.
Praise For…
---
Reseñas:

«Brutalmente hermosa.» -Newsweek
«Una fascinante historia de amor, coraje y sacrificio... Combina un  crudo realismo con personajes llenos de riqueza emocional y una prosa  lírica que suena esperanzadora y auténtica desde la primera línea.» -Publishers Weekly
«Extraordinaria... Una novela rica y gratificante sobre vínculos  familiares, perseverancia y la amistad y fortaleza de las mujeres.» -Booklist
«Los cuatro vientos resulta sobrecogedoramente profética con su  historia sobre la Gran Depresión, de tierras arrasadas, xenofobia, y  miedo al contagio… y también de la determinación para unir fuerzas y reconstruir. Su mensaje es estimulante y esperanzador.» -The New York Times
«Épica y evocadora, una conmovedora historia de amor y dificultades... Majestuosa y absorbente.» -USA Today
«Por encima de todo lo demás, Los cuatro vientos es una muy buena  historia, una historia que toca todas las teclas correctas y que te sorprende hasta el final.» -Associated Press