Don Quijote de La Mancha (Hardcover)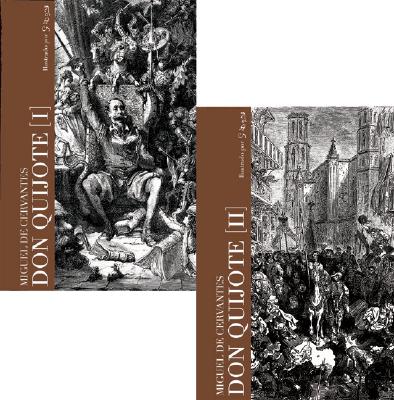 $55.00
This item is not currently available to order.
Description
---
A superlative work of world literature, Miguel de Cervantes's classic novel is a story about the human spirit. His characters Don Quijote and the loyal Sancho Panza, an idealist and a dreamer, have transcended the pages of the novel to become iconic figures in their own right. Illustrated 19th-century French artist Gustave Dore's intricate and imaginative engravings, which often are said to have put a face on Don Quijote, this luxurious box set of the two volumes of Don Quijote de la Mancha commemorates the 400th anniversary of the book's publication.
Hace 400 anos se imprimio un libro extrano y totalmente diferente a todo lo que se habia escrito hasta el momento. Esta preciosa y lujosa publicacion conmemorativa del IV Centenario de la primera edicion de Don Quijote de la Mancha es un relato del espiritu humano, en donde Miguel Cervantes presenta don Quijote y su companero Sancho Panzo, un sonador y un idealista. Contiene todas las ilustraciones que creo en el siglo XIX el frances Gustavo Dore, el mas famoso de los artistas que se han dado a la tarea de ilustrar esta obra maestra, y el que para muchos ha determinado la imagen de Don Quijote. Esta valiosa joya editorial permitira al lector disfrutar y apreciar una obra cumbre de la literatura universal.
About the Author
---
Miguel de Cervantes's work has been translated into many languages and has been read, analyzed, and studied by aficionados all over the world. Gustave Dore was a French illustrator and painter who produced engravings for editions of The Divine Comedy, Don Quijote de la Mancha, and works by Rabelais and Balzac.