National Geographic Traveler Portugal, 4th Edition (Paperback)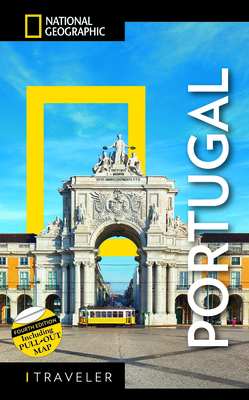 Description
---
Set on the outer limits of Western Europe and stretching along 530 miles (850 km) of Atlantic Coast, Portugal has an independent spirit and an ancient and well-established culture. Starting on mainland Portugal, find landscapes that range from endless beaches to the rugged mountains of the Serra da Estrela. Visit the majestic monuments and 25 UNESCO World Heritage sites that proudly recall the rich history of one of the oldest nations in Europe. In tourist-friendly cities like Lisbon and Porto, amble through historic districts and streets embellished with facades covered with azulejos; sip from fine Portuguese wines; and spend a lively night being carried away by the notes of Fado, Portugal's traditional music. On its shores and on the islands beyond, partake in a wide range of excursions and activities, including surfing lessons; golfing some of the world's most beautiful courses; biking through parks and stunning natural reserves; or hiking the country's faith paths--Portuguese Way of Santiago and the Fatima Ways. Whether you're exploring the colorful and historic cities or taking a retreat in the Azores, this beautifully illustrated insider's guide to Portugal offers insider-only information on one of the greatest countries on Earth.
About the Author
---
FIONA DUNLOP has worked for several international magazines and national newspapers and has contributed to travel guides on eight countries including India, Singapore, and South Africa. Among her recent publications are In the Asian Style (on Asian design) and New Tapas, an illustrated book on the Spanish tradition of tapas bars. Between one exotic trip and another she has frequently visited Spain to write articles and books, including National Geographic Traveler Spain.
EMMA ROWLEY worked in Portugal for nine years for a tour operator, focused on travel within the rural territories of Spain, Portugal, and the Azores Islands. Thanks to this experience she has perfected her aptitude for travel writing, and contributed to various guidebooks and travel articles.
TINO SORIANO is a photojournalist and travel photographer. He was awarded the First Prize by the World Press Photo Foundation and has received prizes from UNESCO, Fujifilm, and Fotopres. In addition to photographing Portugal, he has shot for National Geographic in Spain, France, Italy, Scotland, and South Africa. His work has also appeared in Geo, Merian, Der Spiegel, Paris Match, and La Vanguardia, among other publications.