Operative Design: A Catalog of Spatial Verbs (Paperback)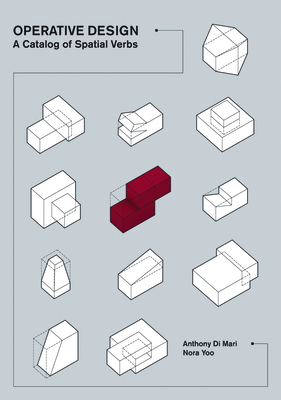 $16.99
This item is not currently available to order.
Description
---
The core idea for this book is the use of operative verbs as tools for designing space. These operative verbs abstract the idea of spatial formation to its most basic terms, allowing for an objective approach to create the foundation for subjective spatial design. Examples of these verbs are expand, inflate, nest, wist, lift, embed, merge and many more. Together they form a visual dictionary decoding the syntax of spatial verbs. The verbs are illustrated with three-dimensional diagrams and pictures of designs which show the verbs 'in action'.

This approach was devised, tested, and applied to architectural studio instruction by Anthony Di Mari and Nora Yoo while teaching at Harvard University's Career Discovery Program in Architecture in 2010. As instructors and as recent graduates, they saw a need for this kind of catalogue from both sides - as a reference manual applicable to design students in all stages of their studies, as well as a teaching tool for instructors to help students understand the strong spatial potential of abstract operations.
About the Author
---
Anthony Di Mari is an adjunct professor at Northeastern University's School of Architecture where he teaches first year architecture studios and advanced representation. He received his Bachelor of Arts in Architectural Studies from Holy Cross before completing a Master's Degree in Architecture at the Graduate School of Design at Harvard University. Anthony has also participated in the Ecosa Institute's program in Sustainability. Anthony's competition work has been featured online through inhabitat, Scientific American, CNN, and shiftBoston. His professional experience in the field of architecture includes collaborations with Peter Eisenman, Rick Joy Architects, RCR Arquitectes, Studio Luz, and Merge Architects.

Nora Yoo is a practicing architect in New York City. She received a Bachelor of Arts magna cum laude with honors in Architectural Studies and Hispanic Literature and Culture from Brown University. Following her undergraduate studies, she went on to receive her Master's degree in Architecture at the Graduate School of Design (GSD) at Harvard University. While studying at the GSD, Nora honed in on research regarding the application of design thinking to pressing global issues with Toshiko Mori, in addition to exploring the future of physical space for information exchange in her thesis with her advisor, Mack Scogin. In her professional career, she has taught studio at the GSD's Career Discovery program and has worked with Carlos Zapata Studio, SB Architects, Shinberg.Levinas Architectural Design, and Toshiko Mori Architect / VisionArc and Architecture Research Office.