Legend: The Labors of Heracles: A Graphic Novel (Campfire Graphic Novels) (Paperback)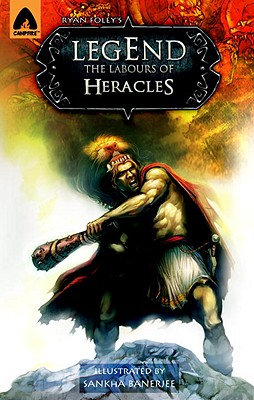 $13.19
This item is not currently available to order.
Description
---
Their first mistake was to assume he would give up...
Heracles had it all: a beautiful home, a loving family and a reputation as a great soldier.
Unfortunately, due to his success, he became a victim of jealousy. As the result of a vicious plot, Heracles was hypnotised into committing a terrible crime. Devastated by his actions, he wandered aimlessly, immersed in depression. Finally, he found some solace in the fact that he could atone for his sins by completing ten impossible tasks.
The creator of these tasks was Eurystheus, Heracles's nemesis, who was constantly angered by his refusal to accept defeat. As a man of action, Heracles never complained and never backed down; he simply got on with the job at hand.
Follow Heracles as he strives to complete his tasks by battling a giant lion, fighting monstrous birds and tricking someone into carrying the weight of the world on his shoulders.
About the Author
---
Born in 1974 in Toms River, New Jersey, USA, Ryan Foley's obsession with comic books began during his childhood. He was first introduced to characters like Spider-Man and Batman during trips to the grocery store with his mother. In 2004, Ryan achieved a lifelong goal when his first comic book was published.

Ryan has worked with Image Comics and Arcana Studios on comic book series, including Masters of the Universe and Dragon's Lair.
Praise For…
---
"Ryan Foley's Legend: The Labours of Hercules relates a lean yet muscular version of the exploits attributed to Greece's greatest hero. The graphic novel streamlines the saga and builds a rock-solid foundation on which to tell future tales. . . This telling is very faithful to tradition. The conclusion of the Labors and Heracles' redemption and release from servitude were very powerfully depicted." — Hercules Invictus, Voice of Olympus Book Reviews

"In 80 pages, they attempt to condense…the 12 labors of Heracles for a young audience. That's a daunting task, and I have to say that they were able to do it very well." – DUY, The Comics Cube


"I highly recommend Campfire's comics. They do what they are intended to do and do it in  a way that excites kids about classic literature." — Chris Wilson, The Graphic Classroom (a resource for teachers and librarians)