They Changed the World: Crick & Watson - The Discovery of DNA (Campfire Graphic Novels) (Paperback)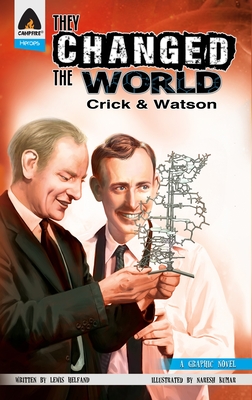 $16.49
This item is not currently available to order.
Description
---
Since the dawn of civilization, we have searched for answers to what makes life possible, and in the mid-twentieth century we found them through the persistent efforts of James Watson and Francis Crick. Although the groundwork for the discovery had already been laid out, it was Watson and Crick's derivation of the three-dimensional, double-helical model for the structure of DNA that solved the final piece of the puzzle and won them the Nobel Prize in Physiology or Medicine in 1962. That is only a single moment of triumph, though, and the journey they took to get there was a long and arduous one.

Find out how Crick and Watson beat their rivals to unlock the secrets of life itself as they unravelled the mystery behind DNA and changed not only science but the world we live in.
About the Author
---
Lewis Aaron Helfand was interested in cartoons, animation, and comics from a young age, and started writing as an amateur from the age of twelve. He has written numerous graphic novels for Campfire, including biographies of Nelson Mandela, Muhammad Ali, Martin Luther King Jr., and the Wright Brothers. He is also the author of They Changed the World: Bell, Edison and Tesla.

A resident of New Delhi, India, Naresh Kumar describes himself as a seeker who is continuously trying to learn as much as he can, and his art is an expression of his curiosity towards the world. A firm believer in humanity, Naresh brings an experienced hand to the drawing board, and his photo-realistic style captures the subtle emotions of his characters. His work features in a number of titles from Campfire, which include Julius Caesar, Martin Luther King, and Sinbad: The Legacy.
Praise For…
---
"What shines through the text is the fact that Crick and Watson could not have achieved their discovery without the ground work of co-operating scientists such as Rosalind Franklin and with additional input from Linus Pauling and Maurice Wilkins. This results in a clear message that great scientific discoveries are built upon the work of a team and that the altruism in sharing steps along the way leads to effective results." — The School Librarian (UK)