Great Expectations (Paperback)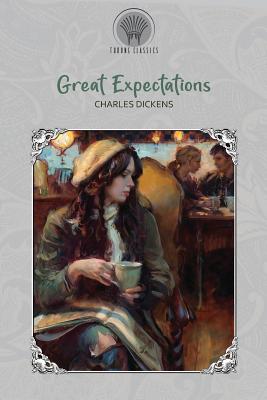 Email us for price & availability: info@oblongbooks.com
Special Order - Subject to Availability
Description
---
On Christmas Eve, around 1812, Pip, an orphan who is about seven years old, encounters an escaped convict in the village churchyard, while visiting the graves of his parents and siblings. Pip now lives with his abusive elder sister and her kind husband Joe Gargery, a blacksmith. The convict scares Pip into stealing food and a file. Early on Christmas morning Pip returns with the file, a pie and brandy. During Christmas Dinner that evening, at the moment Pip's theft is about to be discovered, soldiers arrive and ask Joe to repair some shackles. Joe and Pip accompany them as they recapture the convict who is fighting with another escaped convict. The first convict confesses to stealing food from the smithy.
A year or two later, Miss Havisham, a wealthy spinster who still wears her old wedding dress and lives as a recluse in the dilapidated Satis House, asks Mr Pumblechook, a relation of the Gargery's, to find a boy to visit her. Pip visits Miss Havisham and falls in love with her adopted daughter Estella. Estella remains aloof and hostile to Pip, which Miss Havisham encourages. Pip visits Miss Havisham regularly, until he is old enough to learn a trade.
Joe accompanies Pip for the last visit, when she gives the money for Pip to be bound as apprentice blacksmith. Joe's surly assistant, Dolge Orlick, is envious of Pip and dislikes Mrs Joe. When Pip and Joe are away from the house, Mrs Joe is brutally attacked, leaving her unable to speak or do her work. Orlick is suspected of the attack. Mrs Joe becomes kind-hearted after the attack. Pip's former schoolmate Biddy joins the household to help with her care.