Spirit Beings in European Folklore 4: 270 descriptions - France, Brittany, Wallonia, Portugal, Italy, South Tyrol, Malta, Greece, Spain - Basque Count (Compendium #4) (Paperback)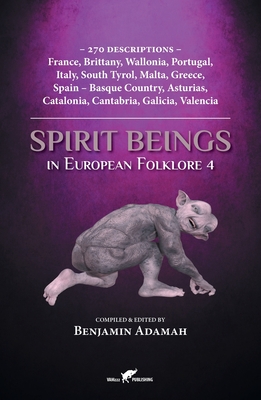 $30.00

Available in our Warehouse: Usually Ships in 3-8 Days
Other Books in Series
This is book number 4 in the Compendium series.
#1: Spirit Beings in European Folklore 1: 292 descriptions - Ireland, England, Wales, Cornwall, Scotland, Isle of Man, Orkney's, Hebrides, Faeroe, Iceland (Compendium #1) (Paperback): $30.00
#2: Spirit Beings in European Folklore 2: 228 descriptions - Germany, Austria, Alpine regions, Switzerland, Netherlands, Flanders, Luxembourg, Lithuania, (Compendium #2) (Paperback): $30.00
Description
---
Compendium 4 of the Spirit Beings in European Folklore-series covers an area that starts with Wallonia and continues via France and the Pyrenees, through the Iberian Peninsula, to Italy and Greece. This results in a very diverse and colourful collection of spirit beings, due to the many included Basque nature-spirits or Ireluak, the Spanish Duendes, the Celtic spirits of Brittany, the prankster Italian Folletti and the creatures from Greece. Some creatures from Breton folklore are particularly gruesome, such as the hollow-eyed Ankou, the Werewolf-like Bugul-n z, or the ghostly and Will-o'-the-wisp-like Yan-gant-y-tan, who roams the night roads with his five lit candles. Most Italian ghosts are less gloomy, while the Iberian Peninsula is home to everything ranging from the 'Beauty' to the 'Beast'. Compendium 4 contains - amongst other things - many kinds of dwarf-spirits or Goblins (Lutins, Nutons, Folletti, Farfadettes, Korrigans, Minairons) various seductive and feminine spring creatures, Wild Man-varieties (Basajaunak, Jentilak) and an extensive section on the Incubus-Succubus. It is fascinating to discover how many types of European spirit beings (from Kobold to many female spring-spirits), described in the other Compendiums, can be traced back to creatures from Ancient Greece.
Compendium 4 discusses 270 spirit beings in detail, includes their alternative names, additional references to subordinate beings and a unique selection of illustrations.