Therapeutic RNA Nanotechnology: Immunomodulation and Dynamicity (Hardcover)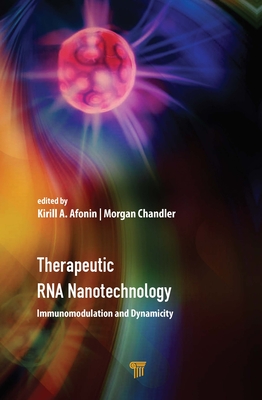 $539.93
This item is not currently available to order.
Description
---
This collection of research articles and reviews covers the latest work in the design, delivery, dynamic abilities, and immune stimulation of RNA nanoparticles which have driven the utilization of their immunomodulatory properties. The unknown immune properties of nucleic acid nanoparticles have been a major hurdle in their adaptation until the works herein began assessing their structure-activity relationships. This collection chronologically follows the path of investigating the recognition of design components to implementing them into nucleic acid nanostructures.
RNA nanotechnology is an emerging platform for therapeutics with increasing clinical relevance as this approach becomes more widely used and approved for the treatment of various diseases. The latest research aims to take advantage of RNA's modular nature for the design of nanostructures which can interact with their environments to communicate programmed messages with intracellular pathways. In doing so, nanoparticles can be used to elicit or elude responses by the immune system as desired in conjunction with their therapeutic applications.
About the Author
---
Kirill A. Afonin is an associate professor in the Department of Chemistry, University of North Carolina at Charlotte, vice president and founding council member of the International Society of RNA Nanotechnology and Nanomedicine (ISRNN). He has focused his studies on RNA biology and nanotechnology with potential diagnostic and therapeutic applications in biomedicine. He has published more than 65 articles in international peer-reviewed journals, co-authored 16 book chapters, edited two books, and holds 12 US patents, two of which are licensed to biotech companies. He is also a member of several scientific societies and a reviewer for many international scientific journals and funding agencies. Dr. Afonin is a recipient of two NIH Fellows Awards for Research Excellence, a prestigious NIH Maximizing Investigators' Research Award, and two NIH R01s. Morgan Chandler received her BS in biological sciences with honors from the University of North Carolina at Charlotte prior to joining the Nanoscale Science PhD Program there. Her work in The Afonin Lab has focused on the dynamic design, delivery, and immunostimulatory properties of nucleic acid nanoparticles and their interactions with other classes of biomolecules. Morgan has co-authored more than a dozen papers and four book chapters in the field.