Instant Loss Cookbook: The Definitive Weight Loss Cookbook For Health and Fitness (Paperback)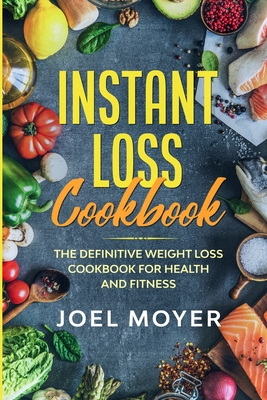 $21.99
This item is not currently available to order.
Description
---
Take Charge of Your Health Today and Start Increasing Your Fat Burning Potential with the Instant Loss Cookbook
Are you someone who doesn't like what they see in the mirror? Do you yourself lacking energy and needing a coffee fix one too many times a day? Have you tried many ways to lose weight but can't seem to find the right solution for your body? And most importantly, are you someone who is looking for a healthy and easy way to burn fat without sacrificing the foods you love so dearly?
Well introducing the Instant Loss Cookbook
The recipes and diets found in this book uses your own body's natural response to foods to burn those stubborn fats stores especially in your abdominal area. That means inches off your waist line The book is unique because it forces the body to burn FATS rather than carbohydrates. That also means you can expect your body to turn into a new fat-burning machine
In This Book You Will Get:
A Proven 3-Week Fat Burning Keto Diet Plan To Get Your Started
Meal Plan Madness
Cleansing Strategies For Your Body
How To Increase Your Body's Natural Metabolism
Increase Fat Burning For You
Plenty of Instant Loss Recipes
To Learn What A Keto Diet is And How It Will Work For you
The Health Benefits Associated With The Keto Diet
The Power of the Crockpot and its Benefits
How Clean Eating Can Transform Your Body
Recipes for All The Special Occasions
Healthy Meals That Work Towards Helping You Achieve Better Health and a Healthier Body
Who says you have to starve to lose weight? Here Are Some Recpies That I know You Are Going To Love In This Ketogenic Diet For Beginners Book To Keep You Satisfied While Working Toward Your Goals:
Cream Cheese Pancakes
'McGriddle' Casserole
Griled Halloumi Salad
Feta and Pesto Omelet
California Chicken Omelet
Breakfast Tacos
Pan 'O' Sausage
Tuna Melt Balls with Avocado
Pizza Frittata
Tuna Avocado Tartare
Quarter Pounder Keto Burger
Siracha Lime Steak
Grilled Cheese Keto Style
Walnut Crusted Salmon
And Much Much More...
Grab Your Copy of This Book Today Don't Miss On Your Chance To Have A Changed Lifestyle And a New You.
Scroll to the top and press the "Buy Now" button Today to get your copy