Amazon FBA 2023 Step By Step Formula To Build An $25,000/Month E-Commerce Business On Autopilot And Become A Top Seller On Amazon (Paperback)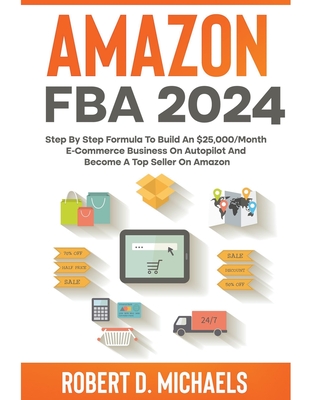 $23.99

Available in our Warehouse: Usually Ships in 3-8 Days
Description
---
Amazon FBA or fulfillment by Amazon is a business opportunity that offers people the opportunity to operate their own e-commerce store without having to deal with all of the technical bells and whistles that can make traditional e-commerce seem daunting.
If you desire to run your own e-commerce store, Amazon FBA is a wonderful way for you to get started. This unique business opportunity presents you with so many benefits that you simply will not gain elsewhere, making e-commerce easier to get into than ever before. The abundance of benefits that you gain with this opportunity means that you can run your Amazon FBA store as a full-time gig without having to put in full-time hours. Countless people have been able to make $10,000+ per month using this platform, all the while being able to enjoy their lives and time freedom due to the hands-off structure of this business
That's right Because of how Amazon FBA works, you actually do not have to invest that much time into your business to start and maintain it. While it will take some practice and effort early on to get started and get your business going, maintaining and even scaling your business with Amazon FBA takes significantly less time than it would with nearly any other business model. This means that not only are you going to be able to turn a great profit, but you are also going to be able to actually have time to enjoy that profit you are turning so that you can really live your best life
In this book, I want to support you with discovering all of the ins and outs of Amazon FBA. I am going to help you discover exactly what this business model is, how it works, and what you need to do in order to leverage it. I am also going to help you identify how you can set yourself apart from the others who are using Amazon FBA by supporting you with discovering the right products to sell, as well as the right brand to use to actually sell those products. By blending together all of the tips and techniques I give you in this very book, you are going to have all of the knowledge that you need to make your business work.
The best way to use this book so that you can actually gain that level of success is to start by reading this book cover-to-cover so that you know exactly what is going to be required of you for you to succeed. Then, once you have a clear outline in your mind, you can go back through this book and follow the process step-by-step as directed within these very chapters. Using this method is going to help you have the best blueprint for success both on paper and in your mind so that you can really leverage your knowledge to succeed.
If you are ready to begin the journey of launching your own Amazon FBA business, it's time to begin. I encourage you to really take your time with this book and follow all the cues as they arise, as this is going to ensure that you follow the exact blueprint to build your successful Amazon FBA business. And, of course, please enjoy