Grass Productivity: Rational Grazing (Paperback)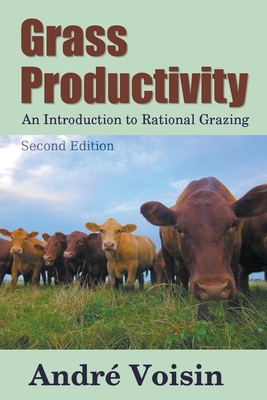 $41.94

Available in our Warehouse: Usually Ships in 3-8 Days
Description
---
Voisin's classic is still in great demand, nearly three-quarters of a century after it was first written and published. And with so many books in this area that have completely disappeared
The main point of it, so often forgotten over and over, that grass is more productive when shorn and given time to re-grow. That is the core base of all the current popular works on rotational and "mob" grazing.
It's not too surprising then, that you can go through Voisin's book and find everything they are saying now as "revolutionary". Because he took the time to make a full study of his land, it's cattle, and everything anyone had written on the subject up to that point.
Also not too surprising is that only the really profitable grazers actually find this book and study it. Then re-study it. Because a regular re-study of Voison's work brings new understanding, new ideas, and greater simplicity to anyone's grazing operation. As well as more profitability.
The underlying basic to this work is that through managed grazing, the cows can help the grass be more productive. They help the soil regenerate through their interaction with the grass, very similar to how the vast roaming herds of grazing and browsing animals across the Western plains developed and maintained the prairies. The sheer size of those herds proved the land was capable of supporting massive tonnage of livestock through grazing - and following natural patterns.
But that same land, a few decades later, first was mismanaged into a massive Dust Bowl - and then recovered from it. And that both says a lot about our own human arrogance, and our ability to use humility ot learn from our mistakes.
Grazing cattle, done responsibly, can improve the land beyond what it's produced in decades before. It can start restoring the erosion that plowing nad cultivation have created. That's if we actually study that book and apply it.
In that way, we can first work to make our farming more sustainable and pay its own way, then we can encourage it to save our futures by restoring the land, and producing higher quality beef and forage than it has in centuries.
IF we read, study, and apply now...
- - - -
This is a reproduction of the original 1959 edition, formatted to trade paperback (6x9). Many original tables and formulae have been reproduced as images. Additional essays by James Anderson have been included. This second edition has been cleaned up and reformatted to take advantage of Print On Demand capabilities - so your reading is less interupted, with the tables and photos closest to where they are mentioned.
Scroll Up and Get Your Copy Now.