The Petroleum Papers: Inside the Far-Right Conspiracy to Cover Up Climate Change (MP3 CD)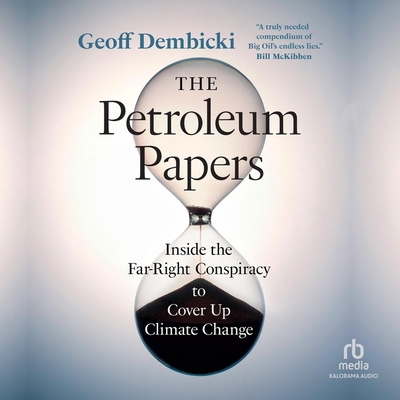 $41.99
This item is not currently available to order.
Description
---
Burning fossil fuels will cause catastrophic global warming: this is what top American oil executives were told by scientists in 1959. But they ignored that warning. Instead, they developed one of the biggest, most polluting oil sources in the world--the oil sands in Alberta, Canada. As investigative journalist Geoff Dembicki reveals in this explosive book, the decades-long conspiracy to keep the oil sands flowing into the US would turn out to be one of the biggest reasons for the world's failure to stop the climate crisis. In The Petroleum Papers, Dembicki draws from confidential oil industry documents to uncover for the first time how companies like Exxon, Koch Industries, and Shell built a global right-wing echo chamber to protect oil sands profits--a misinformation campaign that continues to this day. He also tells the high-stakes stories of people fighting back: a Seattle lawyer who brought down Big Tobacco and is now going after Big Oil, a Filipina activist whose family drowned in a climate disaster, and a former Exxon engineer pushed out for asking hard questions. With experts now warning we have less than a decade to get global emissions under control, The Petroleum Papers provides a step-by-step account of how we got to this precipice--and the politicians and companies who deserve our blame.