Indoor Growing: The Complete Guide to Indoor Gardening. Collection of Four Books: Hydroponics, Aquaponics for Beginners, Aeroponics an (Paperback)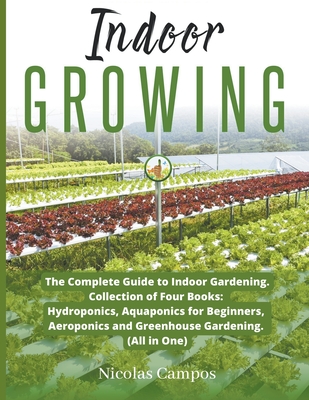 $23.99

Available in our Warehouse: Usually Ships in 3-8 Days
Description
---
Do you like the thought of eating organic veggies from your own garden?
Read on if the response is affirmative.
You will now comprehend how to use indoor growing to create a wholesome, chemical-free garden.
Innovative gardening techniques like hydroponics or greenhouse gardening can hasten the ripening of your plants by 25%, increasing their yield by 30%.
You will learn everything about hydroponic, aquaponic, aeroponic, and greenhouse gardening in this book, including its advantages and significance. Don't let it undermine your finest growth attempts without you even realizing it if you lack the necessary abilities and information
And if you are one of those people who has imagined their garden as the envy of all who view it?
So indoor growing also has a lot of attractive benefits By understanding the fundamentals from this book, you can advance your garden to new heights.
The fact that indoor growing is so diverse is the nicest thing. Also, it will help you to cultivate fresh, organic produce that will result in your most delicious harvest, making better use of the area in your garden.
Whatever your objective, this manual will assist you in achieving it.
This collection will teach you:
The essential information on hydroponic, aquaponic, and aeroponic systems.
Consider your budget, time, space, and level of experience when choosing the system that best suits your needs.
Find out which media and crops work best with each system.
Recognize the importance of fertilizers and lighting for thriving gardening.
Learn how to spot and combat pests and diseases in your outdoor garden.
Understand what it means to garden in a greenhouse.
Learn about the many greenhouse kinds and pick the one that best suits your requirements.
Find out how to heat your greenhouse and use ventilation to keep the appropriate humidity level.
For your plants' best growth, learn how to water them properly and use illumination.
Learn about the important tools you'll need to maintain the health of your garden.
Discover how to organize the year-round growing of a variety of crops for gardening.
Learn how to grow a variety of fruits, vegetables, and herbs in your greenhouse.
This package's simple explanations, figures, and drawings will help you save time, effort, and money.
Thousands Of People Love Gardening, But Only A Few Manage To Grow High-Quality Fruit And Vegetables At Home.
*The book pack does not consist of 4 separate books, but combines all 4 books into one book.