The Urban Farming: The Urban Farming Revolution: How to Make the Most of It (Paperback)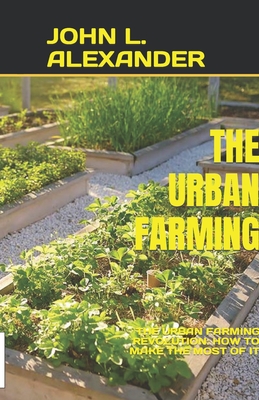 $13.69
This item is not currently available to order.
Description
---
INTRODUCING THE URBAN FARMING
Urban farming is a rapidly growing motion that can revolutionize how we produce meals in city regions. It involves growing produce in cityscape environments, which can be greater efficient and efficient than traditional farming methods. The benefits of urban farming are several. First, it could lessen environmental impact. 2d, it could create jobs in an economically depressed town. 1/3, it may offer fresh, local produce that isn't concerned with the vagaries of global change. Fourth, it could improve public health by giving patients admission to healthful, cheap meals. The challenges of city farming are also numerous. First, it's finding suitable land in a city environment is difficult. 2nd, city farming requires quite a little up-the-front funding. Third, city farming is not always efficient, and it can be tough to scale up. Despite those demanding situations, city farming is growing unexpectedly. Now dozens of city farming projects are working in towns worldwide, and the movement is most effective in developing greater famous. Urban farming can revolutionize how we produce food, and it's essential that we explore all of the capacity blessings and demanding situations of this thrilling trend.
The idea of farming in an urban environment has an extended history. However, latest advances in era and urban planning have made it possible to grow vegetation in densely populated regions without sacrificing any advantages of having a big city. The fashion of city farming is growing at an exceptional fee, with advantages for the environment and neighborhood economies. Urban farming can offer a variety of advantages to the surroundings. By producing meals in a city environment, farmers can lessen the quantity of food that wishes to be transported from rural areas. They can also reduce the amount of electricity produced to produce meals. And using producing meals in urban surroundings, farmers can assist in creating jobs in an area this is suffering economically. Urban farming can also have a widespread effect on nearby economies. By producing meals in a city environment, farmers can help create jobs in an area that is suffering economically. And by using selling their produce in neighborhood markets, farmers can earn a fair fee for their meals. Overall, urban farming is a trend developing at a remarkable charge. It has a variety of benefits for the environment and local economies
Urban farming is a growing fashion in the global of sustainable residing. It has many advantages, inclusive of reducing waste and enhancing air first-class. City farming may be executed in various settings, from massive industrial farms to small gardens in your home. There are numerous different methods for an urban farm. Some human beings develop food in huge business farms. These farms can also have a place devoted to developing vegetation and may also have regions for farm animals, consisting of chickens or cows. Others urban farm their gardens. You could develop vegetation in a garden outside or on a small balcony. This sort of urban farming is ideal for humans who have a small area and want to grow their meals. There also are urban farms that develop food in commercial settings but also provide food to the public. Those farms can also have an area that is dedicated to growing plants, and they'll additionally have an area for livestock, inclusive of chickens or cows. Whatever type of urban farming you select, there are many advantages. City farming can reduce waste and improve air first-class. It can also a laugh way to get involved in sustainable living. Whether or not you're a beginner or an experienced urban farmer, recall has many benefits.