Hoodoo for beginners: The Complete Guide to Working Conjure With Candles, Herbs And Roots. A Path To Discover The Power Of African Magic (Paperback)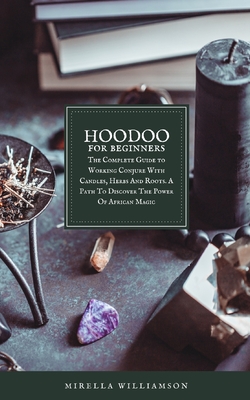 Description
---
Probably when you think about hoodoo, you often assume that it's all about burning candles before strange altars, sticking pins in dolls, or chanting rhymes to bring about your wishes instantaneously. You are light years away from reality. This art uses compelling and effective rituals but, at the same time, dangerous if not used correctly and without a guide. But how exactly can you learn it?
Well, you've come to the right place, but first, a warning: the rituals exposed inside are effective when the practitioner does not want to hurt someone merely but only tries to claim himself from something that was previously his own.
If your goal is to hurt someone, please don't go further. This book is not for you. However, if you really want to find out what this is all about with all due respect, then here is what you will discover:
The deepest realities about hoodoo rites and folk magic
All the hidden tools of the Conjuror: incense, dolls, spirit houses, oils, candles, and mojo Bag.
What is behind a ritual to communicate and evoke spirits
Powerful Hoodoo spells that work to attract luck regain lost love, and sow disunity
The cult of Santa Marta la Dominadora, one of the most famous spirits of the Dominican hoodoo tradition
And much, much more...
Like any other magic practice, hoodoo rituals must be performed with the utmost precision, allowing you not to run into any backslash. Do not hesitate to indulge your curiosity. Whatever the problems that afflict your spirit and believe that magic can be a valid help, take this guide without hesitation. Often even a simple sentence can help you clear your mind...
Are you ready? Press on the buy now button to start your journey today.