Awesome Christmas Decorations For Kids: Coloring activity book for kids ages 4-7 White Elephant Gift for toddler boys ad girls Holiday Coloring Book f (Large Print / Paperback)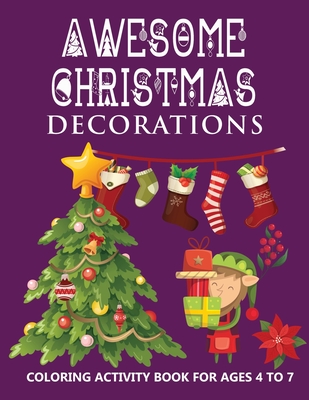 $8.04

Available in our Warehouse: Usually Ships in 3-8 Days
Description
---
What is Christmas without some fun decorating with Santa, his elves, reindeer, snowmen and some penguins for good measure?

Featuring 60 fantastic Christmas coloring pages with beautiful illustrations that will give your child Christmas memories to last a lifetime, this book is sure to be a crowd pleaser as a christmas gift, stocking filler or even a party favor.
Have fun coloring in Santa and his reindeers, elves, snowflakes, stockings and presents galore.
Large Print size for easy visibility and great 8.5x11 in. size for extra wide coloring
Excellent coloring activities for young ages from toddlers to preteen boys and girls. However the festive holiday themes are detailed enough to engage adults as well.
Perfect way to occupy your child during the holiday season whether you are at home or travelling long distances.
Christmas Coloring Pages, Christmas Coloring Sheets, Christmas Printables, Printable Adult Coloring Pages, Coloring Pages To Print, Coloring Book Pages, Coloring Pages For Kids, Kids Coloring, Coloring Christmas book, coloring book adults, toddler coloring book, christmas coloring books for kids ages 4-8, christmas coloring books for children, kids coloring books, christmas coloring books for boys, christmas coloring books for girls, kids christmas coloring book, christmas coloring book for toddlers, toddler christmas coloring, coloring books for toddlers, coloring books for kids, christmas coloring book for kids ages 4-12, christmas coloring books for adults, best christmas coloring books and crayons, christmas colouring book for kids ages 2-5, santa claus coloring books, winter coloring books, ages 2, 3, 4, 5, 6, 7, 8, 9, 10, 11, 12, 2-4, 3-5, 3-8, 1-5, 2-5, 4-8, 4-10.