Dr. Sebi Kidney Failure Solution: The Most Complete Manual to Naturally Treat Chronic Kidney Disease (CKD) and Stay Off Dialysis (Paperback)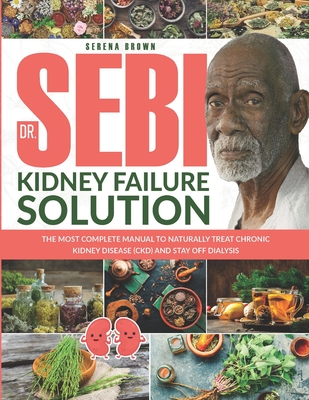 $17.22

Available in our Warehouse: Usually Ships in 3-8 Days
Description
---
Many people suffering from Chronic Kidney Disease can live a long life without being overly affected by the condition, but if not treated with the right method the disease can get worse.
Although it's not possible to restore your normal kidney functions after contracting the disease, it is surely possible to
prevent it from getting worse.
Even if your condition is moderate, you
MUST
follow the
right behaviors
and
eating habits
to make sure that you
always have everything under control.
If you want to know all Dr. Sebi's
tips and secrets
to
stay off dialysis
and
treat CKD
, you should definitely read this book. This book will teach you:
How to identify Kidney Diseases, to immediately be able to recognize what kind of kidney disease you have, and if it's a chronic disease or not, to know the best treatment for your specific condition
All the different Causes and Symptoms of Chronic Kidney Disease, to make sure you understand what kind of behavior got you to this point, to know what unhealthy habits you should delete from your life
All the negative aspects of Conventional Treatments, so you'll know why it's important to have a healthier, natural alternative to treat your kidney problems
How to Avoid Dialysis with Dr. Sebi's Natural Cure, that will help you remove mucus from kidneys thanks to the Alkaline Diet to start your kidney cleansing process right away
What are the 7 Foods you need to stop eating now to avoid any worsening of your condition
What are the 10 Alkaline Fruits and Vegetables that you should eat, that will help you de-acidify your body to promote your natural cleansing process
The Official Dr. Sebi 3-Step Method to Heal Kidneys, that will firstly detoxify and purify your cells, and then rebuild them to always be in a healthy alkaline state
How to prepare delicious and healthful Herbal Teas, that will boost your immune system and accelerate your detoxification process to achieve the best results in no time
...& Much More

Having a Chronic Disease is something that can be very upsetting at first, but with the right advice and methods, you will know how to manage it the best way possible, to keep living a happy and joyful life despite your conditions.
By reading this manual, you will learn the
right habits
that will
delay,
or even
prevent
the onset of dialysis, and you will know all the
proven Dr. Sebi's secrets
to Alkalize your body naturally and
start feeling better immediately
, so...
...What are you waiting for? Click on "BUY NOW" to start your natural kidney healing process now