Autoimmune & Anti-Inflammatory Breakfasts (Keto Friendly Cookbook): 50+ Yummy Recipes to Kickstart your day (Paperback)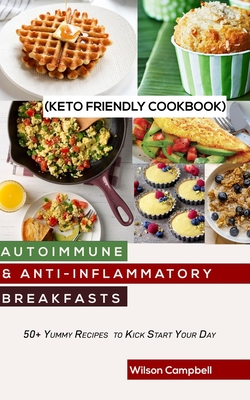 $18.39
This item is not currently available to order.
Description
---
This book contains keto, no gluten, no sugar and no alcohol meal plans for people that want to deal with any form of autoimmune conditions.
Knowing which foods to eat when suffering from autoimmune especially if you have a busy schedule.
On normal circumstances eating healthy is quite difficult, not to talk of doing so while suffering from chronic illnesses.
This Book AUTOIMMUNE CONDITIONS AND CHRONIC INFLAMMATION BREAKFAST
You will be able to easily find a lot of meals that wont send you on an autoimmune flare.
This book contains meal plans that you can eat at home, at work or on the go.
This book shows you how to fight inflammation in your body natural through a nutritious diet.
The meal plans in this book can help you treat chronic conditions like Arthitis, IBS, Hashimoto disease, Eczema and More.
The recipes in this book are flexible and can be adapted to reduce allergens or fit your other dietary needs.
This book contains over 50 satisfying recipes like patato free hash browns, coconut muffins, avocado Omelets, and many more..
You've got plenty of nutritional info for every recipe, along with the ingredients, and efficient cooking tips