Cool Cat Drummer: Your Band Sucks (Paperback)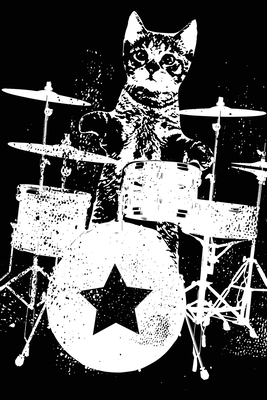 $9.19

Available in our Warehouse: Usually Ships in 3-8 Days
Description
---
A Nightmare City 6X9, 120 white page notebook journal emblazoned with an image from Last Gasp Graphics. The perfect size to bury in your bag or backpack while hunting at the bar or lurking at the cemetery on a Saturday night.
6x9 Lined Journal
120 White Pages (60 Sheets)
Soft Cover Matte Finish
Date Line (Undated)
21 Wide Ruled Lines
Front and Back Cover Graphics
Sinisterly Cute
Delightfully Creepy
Charmingly Strange
A journal for deadly post-punk beaut-evil glam-pires, witches, indie alternative psychobilly babes, beauty ghoul dropouts, new wave industrial speed metal grunge pop kawaii creeps, grim death rockers, strange and unusual gloom and doom misanthropes, eccentric black sheep punks, evil divas, bad guys and dolls, satanic romantics, odd ducks and rejects, rebel ghouls, drop dead gore-geous Miss Fits and psychotic occult weirdos who adore the sinisterly cute, darkly bizarre, macabre and charmingly strange creepy crawly things that go bump in the night.
Fix your unsettling gaze and perma-sneer upon this bloody little beauty. Adorned with an image from Last Gasp Graphics, your love for this journal will gush, spurt, splatter and splash like a deep arterial slashed open gash. Jitter like a moth at the thought of spilling your guts and murderous musings all over these clean white sheets of paper next time you're hit by a train... of thought.
Creepy cute, irreverent, dark humor, countercultural gothic gore, horror graphic journal for the exceptionally subversive, death positive, anti hipster, cadaverous cutie, demon monster movie loving vampire ghoul and gal whose hair stands on end over chillers, thrillers, killers, slashers, thrashers and blood splashers Morbid to the core funeral party fun for the whole family Makes a great gift for that special creep in your life
Nightmare City wants your eyeballs... on our link towards the top of the page Click to see more horrible, ghastly, ghoulish, gruesome and gravely unsettling offerings from Nightmare City and our partner Last Gasp Graphics