Dash Diet Cookbook: Mediterranean Guide with Healthy and Easy to Follow Recipes to Lower Your Blood Pressure and Improve Your Health. Eati (Paperback)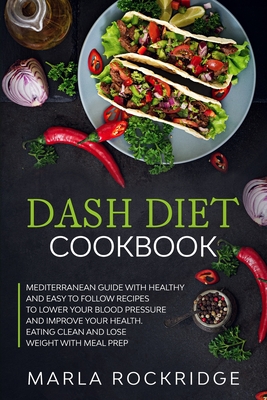 $19.99

Available in our Warehouse: Usually Ships in 3-8 Days
Description
---
Regulate Your Blood Sugar
The DASH Diet Cookbook diet are consistently recommended by health experts as the best diets to maintain cardiovascular health year after year.
Think you can't stop hypertension, or high blood pressure?
Now you can Welcome to the DASH Diet Cookbook
The DASH diet was originally designed to fight high blood pressure without medication. It relies on limiting salt intake, but in some ways is a Spartan diet.
In contrast, the Mediterranean diet is one rich in the use of oils and healthy fats that encourages liberal consumption of fish and nuts.
For decades, experts have recognized that the Mediterranean diet significantly reduces the risk of heart disease.
Now we've taken the best of the DASH diet and combined them together into one new tasty and varied diet that is easy to follow and helps people reduce the risks of blood pressure AND heart disease, while enjoying the flavorful tastes and aroma's of the Mediterranean region.
Inside you'll find:
Who the DASH Diet Cookbook is best suited for.

Seven secret supercharged health benefits of combining the DASH and Mediterranean Diets.

The way to increase your fat consumption and do it right without risking heart health - revealed.

Learn how to manage diabetes with the DASH Diet Cookbook.

Discover how incorporating the principles of the Mediterranean diet makes the DASH diet more appealing and easier to follow.

Who else wants to know the best protein sources now recommended by doctors, that help you reduce the risk of heart attack, stroke, cancer, and Alzheimer's disease?

How to spice up your meals including using oils and dressings that aren't permitted on the DASH diet but you can use on the DASH Diet Cookbook.

Utilizing glycemic index to choose the right carbs to eat.

Jumpstart your health now with a 14 day meal plan that will help you dive into the DASH Diet Cookbook with ease.

Enjoy a varied diet with beef and pork, poultry and seafood recipes.

Top it all off with healthy Mediterranean style desserts.

and more...
While you could improve your health following either the DASH diet or the Mediterranean diet alone, imagine supercharging it by combining them both in a tasty diet that is easy to follow and gives you the benefit of both
The DASH Diet Cookbook is very easy to follow and doesn't put your friends and family off the way many specialized fad diets making the round do.
It won't be long before the DASH Diet Cookbook takes the medical world by storm and ends up as the most recommended diet plan. Get a head start and begin enjoying it today
If all of this sounds like your ideal book, then hop on over and hit now that buy button
Well, stress no more Buy this book and also learn all...
and DOWNLOAD IT NOW