Critical Comparison of Low-Carbon Technologies: A practical guide to prioritizing energy technologies for climate change mitigation (Paperback)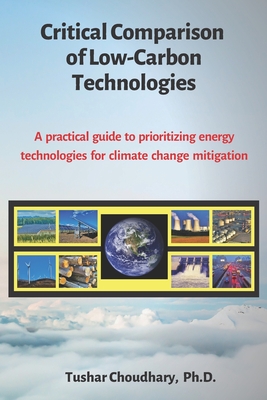 $14.94

Available in our Warehouse: Usually Ships in 3-8 Days
Description
---
Low-carbon technologies differ significantly in terms of their practical effectiveness for addressing climate change. And yet, this topic is rarely discussed This is unfortunate given that understanding these differences is essential for the efficient use of our limited resources. This book provides an evergreen approach to distinguish between effective and less effective technologies.
Most local/national governments around the globe are pushing for the increased implementation of technologies such as solar, wind, battery storage, biofuels, hydropower, electric cars, etc. A large amount of
localized information
about the technologies is available in prior books. However, a holistic comparison of these technologies in terms of their practical effectiveness for climate change mitigation is missing. In absence of such a comparison, it is impossible to get a big picture understanding of renewable energy technologies and their wide-scale implementation. Dr. Tushar Choudhary, a highly awarded technology specialist with twenty-five years of energy R&D experience, has addressed the above important gap by providing a systematic analysis on the following topics:
Critical challenges associated with the targeted CO2 emission reduction
Comparison of the technologies in terms of their abilities to address the critical challenges
Prioritization of the technologies based on this comparison
One additional highlight of this book is that it compares
fossil fuel and low-carbon technologies across the power and transportation sectors
.
Being aware of the significant data ambiguity in this field, Choudhary has specifically relied on data from the most credible sources available for developing the analysis presented in this book. The concise analysis should benefit readers of all interest & knowledge levels- from the mildly curious to those deeply involved with climate change mitigation.
The book provides unbiased and realistic insights into the wide-scale implementation of renewable energy technologies and should enable more informed climate change mitigation discussions.