Dr Sebi: The Step by Step Guide to Cleanse the Colon, Detox the Liver and Lower High Blood Pressure Naturally The Eat to Live P (Paperback)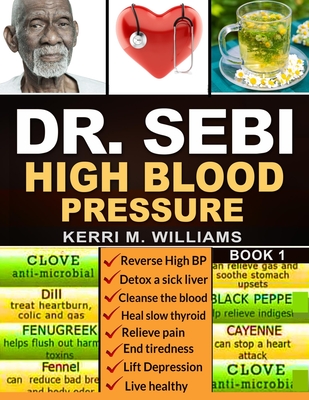 $19.31

Available in our Warehouse: Usually Ships in 3-8 Days
Description
---
International Bestseller
Break free from the grip of constant pounding in the neck and chest, anxiety and pain. How? With the help of Dr. Sebi diet and natural remedies, learn how I was able to go from almost 169/110 mmHg to 112/72 mmHg in less than 4 months.
This book is the first-ever, one-of-a-kind blueprint to help men and women achieve normal blood pressure readings no matter the age, genetics or history
It's already been tested by thousands of users and the results have been OUTSTANDING
This book contains alkaline foods and detoxes with electric herbs that makes the process so much more powerful compared to other programs or diets...
...and all without the hassle of counting calories, overthinking on portion control, or starvation diets where you're one decision away from throwing it all out and calling it quits...
Unlike most diets out there, the Dr. Sebi Diet has been shown to work on people from all over the world, with all types of backgrounds and health problems, including:
-High Blood Pressure
-Thyroid problems
-Adrenal fatigue
-Kidney diseases
-Chronic pain
-Blood sugar problems
-Addictions and emotional eating
-Obesity
-Gut problems
-Skin problems
-Heart disease
-Asthma
Whether you're a teen or over age 50, this diet has helped hundreds of thousands of people. It has miraculously changed the health of many 50 plus year olds when the metabolism is supposedly too slow to heal or burn off any excess fat.
This book is designed to work with your electric body and its natural healing process using the dr. Sebi diet methodology, herbs, approved dietary guidelines and other aspects of the non-dietary regimen. Here's what's Packed inside this Best-Selling book:
-How to gradually switch to the Dr. Sebi alkaline diet
-How to successfully cleanse the colon and detox the liver
-The Best Dr. Sebi Electric Foods for Hypertension
-The Herbs to fight high blood pressure
-24 Foods You Should Never Eat (And Why)
-The Eat to Live Plan to Detox the liver and lower High blood pressure without medications
- Daily and Weekly Step by Step Routine Plan to Beat High blood pressure
- 3 Weeks of Curated Plan to Get started and get results
- Workout Strategy included
-How to activate your body to recover better and faster
-How to break free from non-Dr. Sebi food addictions
-5 important secrets why going on the Dr. Sebi alkaline diet is a must for you
-How to lower high blood pressure, reduce stress and anxiety and boost heart function
-Secret tips to prevent relapse with high blood pressure
But before we go further, here's what this book isn't:
-It is not a low-calorie starvation diet that leaves your health and metabolism a complete wreck.
-It is not a zero-carb, unsustainable Atkins or keto-style diet that works for a few weeks and then stops
-It is not some expensive meal plan designed by 21-year-olds who can get away with eating anything
-It is not a regimen that forces you to work out 7 days a week where every part of your body is screaming in pain.
-The book is not these because none of these things lead to long-term results, and long-term results is what this Dr. Sebi book is about
-That's right. Not empty promises of 'quick fixes' - you could use something that actually delivers results for the rest of your life...So, what are you waiting for?Hit the BUY NOW button at the top upper corner to learn more.