Canning and Preserving for Beginners: How to Make and Can Jams, Jellies, Pickles, Relishes, Soups, Meats, Vegetables and More at Home. The Complete Gu (Paperback)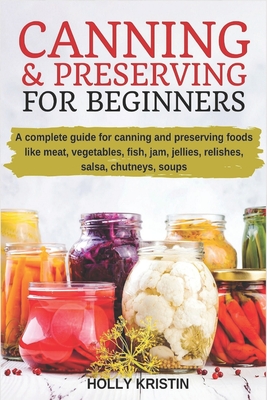 $14.78

Available in our Warehouse: Usually Ships in 3-8 Days
Description
---
Discover the Easiest and Most Affordable Ways to Stock Your Pantry with Home Canned Foods So You Can Enjoy the Fresh Flavors of Seasonal and Local Foods All Year Round
Canning and preserving food is an excellent way to safely and affordably preserve the food your family loves to eat. Canning and Preserving for Beginners includes detailed directions on safe canning and preserving methods plus lists of required equipment and utensils. This essential guide covers water bath and pressure canning with simple and straightforward instructions to ensure success for beginners. At the same time, experienced home canners will find more advanced methods and inspiring ingredients twists.
This modern handbook offers everything you need to confidently achieve canning perfection, making it a valuable addition to your kitchen library. With Canning and Preserving for Beginners you'll be able to discover the ease of water bath and pressure canning, understand the science behind safe food preservation and enjoy delicious recipes for stocking your kitchen and feeding your family.
This book enlightens you on the process of home canning with step-by-step instructions and easy, tasty canning recipes that include Mango Jam, Orange Juice Jelly. Apple Mango Chutney, Low-Sodium Sweet Pickles, Low-Sugar Plum Spread, Summer BBQ Beans, Chicken Cacciatore, Asian Turkey Meatballs, Savory Carrot-Fennel Soup, Split Pea Ham Soup, Candied Yams, Stuffed Cabbage Rolls and much more
Inside Canning and Preserving for Beginners, you'll find:
An overview of canning basics that includes required equipment, food acidity, storage, and fundamental rules of safe canning
More than 80 recipes for canning and preserving jams, jellies, relishes, pickles, stock, soup, meats, fish, vegetables, beans, meals-in-a-jar and more
Tips and tricks for safely canning your favorite fruits and vegetables
With this straightforward and comprehensive guide, you will become an expert in home canning in no time. You will also experience how enjoyable and delicious it can be to eat seasonally.
Get this guide today Scroll up and click the BUY NOW WITH 1-CLICK button.