Dr. Sebi: Alkaline Diet Meal Prep Cookbook: 1000 Day Quick & Easy Meals to Prep, Grab and Go for the Busy Anti-inflammatory Plan (Paperback)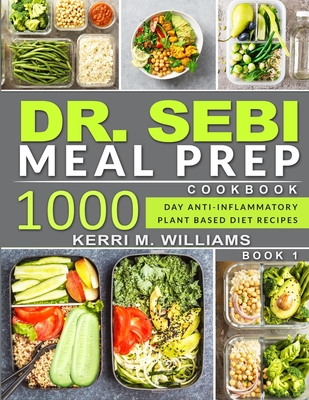 $20.67
This item is not currently available to order.
Description
---
Keep up with your consistency to stick to the Dr. Sebi Diet Plan with a Practical Meal Prep Guideline.
Break away from the Kitchen and begin to truly enjoy life. Being on the Dr. Sebi alkaline diet doesn't mean you have to keep yourself busy all week at the grocery store trying to sort out approved ingredients...or staying all day in the kitchen preparing meals.
We all know Sticking to a healthy diet like the alkaline vegan diet doesn't come easy. But with this complete Meal prep book, you can get started to changing your journey real quick. What more?
You get a step by step plan on how to prep and batch prepare meals so you won't have to worry about complicated recipes, or expensive grocery ingredients
In this cookbook, you'll find: Grocery-efficient 5 ingredient RecipesLess than 15-minute mealsApproved ingredientsFood Storage Tips and StrategiesThawing and Reheating TipsHow to deal with Leftovers4 Week Meal PlanShopping ListsPictures of every recipeNutritional Guide includedAnd much more...
Hit the Buy Now button to get started Now