How to Create Cost Free Terrarium: Step-By-Step Guides To Making A Cost Free Terrarium. Gardening For Beginners (Paperback)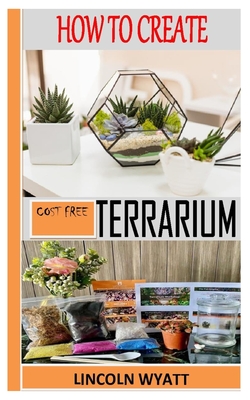 $9.19
Available in our Warehouse: Usually Ships in 3-8 Days
Description
---
If you are a terrarium lover and looking for the easiest way to make your terrarium. This book is for you How to create cost free terrarium is back in vogue and better than ever. Growing collections of adorable miniature plants in glass vessels is a great way to bring the indoors out and get back in touch with nature-no matter where you live and what time of year it is you can always make the best out of your free time to create your garden in glass terrarium that are cost free. Whether you reside in a tiny apartment, spend the bulk of your hours at an office desk, or just want to be better connected to green, living things, terrariums are the ticket. A wondrous combination of nature, gardening, and home decor, terrarium building and tending is both therapeutic and inspirational.Terrarium expert and teacher Lincoln Wyatt makes designing your very own interior gardens easy with step-by-step photos of his own terrarium designs. Plus, you'll get all the information you need about popular terrarium plants, such as tillandsias (air plants), orchids, mosses, cacti, succulents, and ferns. Here the focus is to give you the guides to creating a cost free terrarium. It is so simple that you can do it anywhere anytime Transform basic glass containers, including vases, jars, vertical planters, hanging globes, tabletop greenhouses, and more, into miniature worlds of green. Once you know the basics (the plants, the vessels, and a basic understanding of soil, water, and humidity), you can mix and match for an endless exploration of your own creativity Do you yearn to enjoy green growing things but lack the space for a big garden? If you have any room at all you can create a beautiful terrarium Each imaginative project features inexpensive materials, common plants, and step-by-step building instructions. They are absolutely cost free Inside, you'll learn step-by-step how to build and maintain unique mini-gardens full of lush, oxygen-boosting plants. The mini terrarium projects include memo boards, jars, fishbowls, dream catchers, and more that will fit on small tables, bookshelves, and window sills, hang on the wall, or can be displayed in any other tight places in the home.Expert advice for terrarium maintenance is also included, making this book your indispensable reference guide to the satisfying, sustainable hobby of DIY terrariums Create your own COST FREE TERRARIUM-no matter the size of your home.
We appreciate your continued support!
If you would like to make a donation to help us through CLICK HERE.