Keto Chaffle Recipes Cookbook 2021: Super-Tasty, Healthy And Mouth Watering 200+ Low-Carb Waffles That You Can Eat While Staying In Ketosis And Losing (Paperback)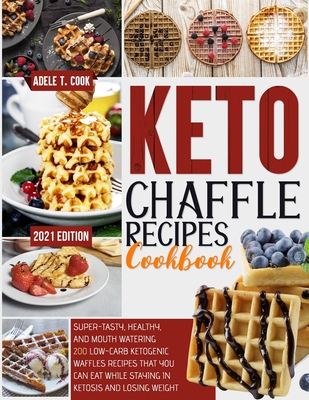 $14.94
This item is not currently available to order.
Description
---
★NEW EDITION: NOW WITH SHOPPING LIST★As more and more people have found about the incredible effects of the Ketogenic diet, there's always a higher desire to enjoy many dishes that people can't resist, while still staying in ketosis.
I know that feeling very well, and I'm sure you do too...
Luckily the keto community has come up with an awesome idea to solve this problem
by creating the "Chaffle", which is essentially a delicious waffle made with cheese and eggs, that allows you to
calm your dessert-cravings while staying within the proper carb and sugar budget.
This book was written to give you the opportunity of being easily able to prepare and enjoy this delicious keto-friendly treat, in fact, by reading this book you'll discover:

What A Chaffle Actually Is, so you can understand how and why this is one of the best things to eat while in ketosis

How To Prepare Easy, Healthy, And Mouthwatering Chaffles, thanks to the 200 easy-to-prepare recipes that you will find inside this cookbook, you will be able to enjoy amazing waffle-like snacks, without having to step out of your keto line. Each recipe has its own nutritional information, so you will always be able to keep track of your Marcos no matter what
A Super Useful And Detailed Shopping List, so you will know what you need to look for in the supermarket to prepare your amazing chaffles. With this complete shopping list, you will also avoid those unwanted last-minute shopping sprees to get the ingredients you are missing, so you will have everything organized, planned, and ready for you
... & Much More
Thanks to this cookbook you will learn how to lose weight with taste, and you will have literally everything you'll need (from all the necessary ingredients, up to how to prepare the recipes to suit your servings) to start cooking amazing chaffles in no-time, and without any kind of fuss.
Once you discover how good they taste, you will crave more and more, and with this cookbook, you will enjoy a different one every day, so...

...What are you waiting for? Scroll to the top of the page and click the "BUY NOW" button to grab your copy right now