Patio Vegetable Gardening: Grow Fresh Food Right at Your Doorstep - Simple Patio Garden Ideas That Will Make You Want to Spend All Your Time Outd (Paperback)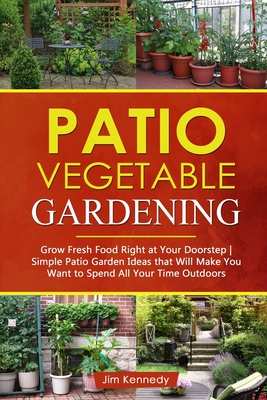 Description
---
YOU DON'T NEED A MASSIVE GARDEN TO GROW JUST ABOUT EVERY FRESH FRUIT AND VEGETABLE YOU DESIRE...
Discover Easy, Affordable, and Enjoyable Way to Grow Healthy and Nutrient-Dense Foods in Your Patio
I was literally shocked...
About 6 years ago, one of my friends showed me what is inside those fruits and veggies we buy almost daily at the grocery shop.
He showed me all the proof possible, but I was still on offense.
I just could not believe that.
Some of my favorite veggies contained a number of chemicals and toxins that are over 9 times greater than the ones from my grandma's garden.
It didn't take long for me to make a decision. We (me and my family) are no longer eating those.
The decision was quick, but there was a problem that came up once I made it.
We didn't have the finances to buy organic or had a massive garden to grow fruits and veggies ourselves.
That was Until I discovered "Patio Gardening," and how easy and relatively inexpensive it can be to grow literally every plant you want and as many as your family needs in 10ft by 10ft Patio or even smaller - without tons of money, days of work and boring routine.
And through this book, I'll teach you exactly how you can do that as well.
Look at what's inside:
- How to pick the best location for your patio veggies and how to design an effective and convenient 'mini garden' you would enjoy spending time in?
- What are the 9 plants that can literally grow themselves and how to grow your favorite ones easily? (discover universal mini-gardening strategies for maximum results)
- How to choose containers that have the right value-price ratio so you can get the best quality for your money?
- Actual step-by-step strategies to grow and nurture your favorite plants in a chemical-free and nutrient-dense way (to keep your kids healthy and vibrant)
- Just about everything you need to know about natural fertilizing and how to keep your plants happy
- How to protect your plants from pests, and what to do if they already have them?
- Much much more...

Keep in mind that this book's goal is not to make you an expert gardener but rather to give you all the tools you need to grow those amazing fresh fruits and veggies for yourself and your loved ones
So don't wait, scroll up, click on
"Buy Now,"
and Start Building Your Amazing Outdoor 'Mini Garden'