Scripts from the Crypt No. 12 - Tod Browning's The Revolt of the Dead (hardback) (Hardcover)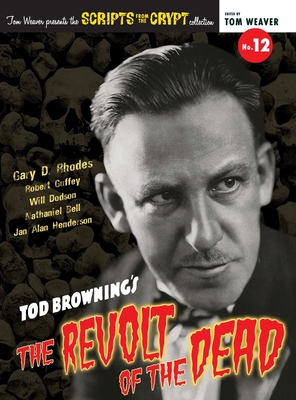 $50.40

Available in our Warehouse: Usually Ships in 3-8 Days
Description
---
"THE GRAVE WILL GIVE UP ITS OWN, UNTIL THE WORLD WILL BE FILLED WITH THE WALKING DEAD."
London throbs with terror when the dead rise from their graves and walk its streets. The city will soon be overrun. The horror of it all is driving residents to madness and suicide. One victim suffers possession, stigmata and crucifixion. With occult forces at work, civilization may be doomed
Decades before Night of the Living Dead (1968), The Exorcist (1973) and other industrial-strength shockers, Tod Browning's 1932 screen treatment and script The Revolt of the Dead anticipated their horrors - and at the same time echoed Browning's Dracula (1931) by featuring duplicates of several of that film's major characters. Enter an unexplored corner of Browning's universe as the Scripts from the Crypt series world-premieres this ultra-rare work, along with background information unearthed by the redoubtable Prof. Gary D. Rhodes.
To delve deeper into Browning's storytelling process, Professors Rhodes, Nathaniel Bell, Will Dodson and Robert Guffey examine multiple script drafts of Browning's Freaks (1932), Mark of the Vampire (1935) and The Devil-Doll (1936) and document the step-by-step evolution of those macabre tales.
The cinematic universe of Classic Horror's "darkest" director is about to get weirder, wilder and more shocking
"A trove of fascinating materials that sheds light on Browning projects made and unmade."
- Murray Leeder, Horror Film: A Critical Introduction
"What Browning intended to bring to the screen would have scandalized and devastated audiences, rocketing the horror genre decades beyond what was considered even remotely possible at the time."
- Stephen R. Bissette Swamp Thing, Taboo, Studio of Screams