Wish Upon a Crawdad (Hardcover)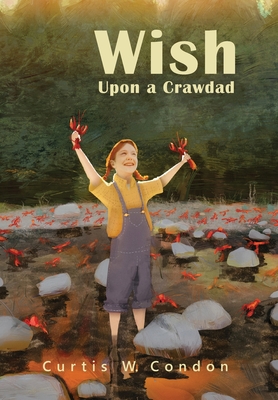 $22.79

Available in our Warehouse: Usually Ships in 3-8 Days
Description
---
WINNER of the 2023 Western Writers of America SPUR AWARD for best juvenile fiction Readers of all ages will love the colorful characters, lively writing, and nonstop action, humor, and even a few tears.
Wish Upon a Crawdad takes place at the end of the Great Depression, during the early years of the electrification of rural America. It is told through the eyes of Ruby Mae Ryan, who has never had electricity a day in her life. But that's about to change.
Ruby isn't your typical depression-era twelve-year-old. For one thing, she's got a jar full of coins, thanks to her crawdad business and other odd jobs. But she doesn't let the money go to her head. She's too busy trying to make more. That's because she's got something special in mind, and time is running out. So, Ruby calls on crawdads for help.
A lot of people wish on the first star at night. Ruby does that, too, but she also wishes on the first crawdad of the day. She figures the odds are better. "Not many folks wish upon a crawdad," Ruby says. To convince doubters of their magic, Ruby points to the new electric cooperative and the coming of electricity. She credits those two things to wishing on crawdads.
Ruby wants her latest wish so badly she won't even say what it is out loud, afraid that might jinx the wish. Instead, Ruby calls it her "secret surprise." The only other people who know about it are Daddy and her best friend, Virginia. And they'll never tell. Or will they
Wish Upon a Crawdad is all about friendship and adversity, courage and fear, heartbreak and triumph, and the story has as many channels and curves as the creek running through it. Along the way, Ruby searches for a legendary place called Crawdad Haven, kisses a barnyard animal, "dances" with an angry dog, escapes death, and even has a chance encounter with a famous dignitary. Not bad for a spirited, crawdad-catching girl from farm country.
Historical note: The story unfolds during a pivotal time in America. The Great Depression is not yet a memory, and the country is only eighteen months from another world war. Ninety percent of villages and farms don't have electricity. But that's begun to change, thanks to rural residents banding together to form their own power companies called rural electric cooperatives. Such is the backdrop for the story, which takes place in 1940 in a valley near the fictional village of Crossroads, Oregon. It's a fitting name, given rural America-and the entire country-are at the brink of a new age.