The Gardener's Guide to Starting Seeds Indoors: Discover How to Sow, Germinate, & Transplant All The Veggies, Herbs, Flowers & Fruits You Love Most (Hardcover)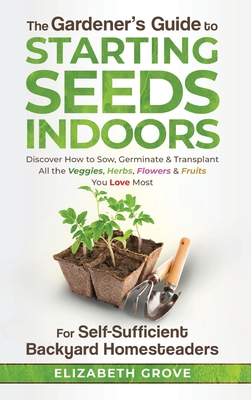 $19.97

Available in our Warehouse: Usually Ships in 3-8 Days
Description
---
Lookin' to get an early start on your garden? To be more self-sufficient? To save money? Are you ready to start seeds indoors? Then click 'read more' below
So, you want to grow your garden from the start of the seed...
Perhaps, you have experience starting seeds outdoors but want to discover what it takes to start them indoors
Or you are a complete beginner to gardening and want to learn from the start of the seed
Starting seeds is one of the most important skills to have in becoming more self-sufficient.
And let's face it, who doesn't want to start their gardens earlier?
This book will allow you to become 100% self-reliant in growing plants from seeds this season and all the years to come and have the most fun doing it
In "The Gardener's Guide to Starting Seeds Indoors for Self-Sufficient Backyard Homesteaders", you will discover:
How fun it is to start seeds
How to create your own magic soil
How to easily grow your plants from seeds all on your own successfully
All the most common mistakes made before you and how you can avoid them all
How you can be an even more self-sufficient backyard homesteader
The beauty of photosynthesis
How to become an even better gardener
How to start your garden early
How proud you will be of yourself and your creations
The most rewarding satisfaction you will ever have for your garden
Everything you need to know about starting seeds indoors in just one day
If you are concerned with the cost of starting seeds indoors, rest assured you can successfully start seeds indoors with any sized budget
If it's the amount of space you are concerned with to start seeds indoors, then this book is for you
Starting seeds indoors seems like an intimidating task but after reading this fun and easy book you will have all the confidence and knowledge needed to successfully start and save your seeds for years to come
So tell me, do you want to easily grow your plants from the start of the seed and have the most fun doing it? If so, scroll up and click "add to cart"