AUTHOR EVENT: Jesse Saperstein - "Getting A Life with Aspergers"
Event date:
Friday, August 29, 2014 - 7:00pm
Event address:
6422 Montgomery St., Suite 6
us
This event will be held at Oblong Books & Music, 6422 Montgomery St., Rhinebeck, NY.
Share this event on Facebook!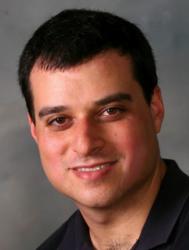 Jesse A. Saperstein is the author of a best-selling memoir, Atypical: Life with Asperger's in 20 1/3 Chapters (2010), in which the author strives to put a human face on Asperger's to make his readers laugh, empathize, and better understand what it means to see the world through the prism of autism.

Diagnosed with Asperger's syndrome (AS), a mild form of autism, at the age of fourteen, Jesse struggled with many of the hallmark challenges of the condition--from social awkwardness and self-doubt to extreme difficulty in dealing with change and managing emotions.
In his new book, Getting A Life with Aspergers: Lessons Learned on the Bumpy Road to Adulthood, Saperstein shares his struggles, triumphs, flubbs, education and inspirations on the road to adulthood, learning many lessons the hard way. In this honest and engaging book, he offers a guided tour of what he's learned about getting along with others, managing emotions, succeeding in school and work, building relationships, and more. Among his Asperger's Rules are:

Clean Up Your Own Mess (including but not limited to credit card debt, out-of-control collections, and your cesspool of a room)
You Can't Bail Out the Titanic with a Wine Glass (or change the world of online dating)
Serving as a Role Model to the Next Generation of Asperger's Syndrome
Navigating the challenges of college and the unrelenting storm of transition.
The Road to Catastrophe is Paved with Good Intentions (understanding how others perceive you, even if they're wrong)
WIN (Work Is Necessary) You are talented enough to maintain employment even if your options are not ideal
Confronting Memories of Bullying and Showing Mercy toward Yourself
At this event Jesse will talk about his experiences and the topics contained in his new book, followed by audience Q&A and a book signing.
A representative from the Mediation Center of Dutchess County will also be present at this event to talk about the work of the Center and the resources & programs available to individuals and families in our Community.

$17.60
This item is not currently available to order.
ISBN: 9780399166686
Published: TarcherPerigee - August 5th, 2014
---

$17.60
This item is not currently available to order.
ISBN: 9780399535727
Published: TarcherPerigee - April 6th, 2010
---