Oblong Puppy Day!
Event date:
Saturday, November 17, 2018 -

10:00am

to

6:00pm
Event address:
Oblong Rhinebeck
6422 Montgomery Street
Bring your pup to shop today! Dogs are welcome all day in our Rhinebeck store & we hope you'll join us for these great "canine" special events!
Please only bring in pups who are well-behaved, good with people and children, and friendly with other dogs!
---
12:00 PM: Celebrated New Yorker cartoonist LIZA DONNELLY will join us to present her new book BE THE PERSON YOUR DOG THINKS YOU ARE by C.J. Frick with illustrations by Donnelly - a humorous, fully illustrated book that shows us that even when we feel at our worst, our dogs still think we're the best―so start acting like it!
"Donnelly's cartoons are the best kind of funny--sly, smart, and right on the money. [They] are great social commentary as well as great fun." Susan Orlean
---
4:00 PM: Author KEN FOSTER will join us with his new book CITY OF DOGS: New York Dogs, Their Neighborhoods, and the People Who Love Them with photographs by Traer Scott - a beautiful, heartfelt, funny, and inspiring collection of photos and stories that maps the relationship between canine New Yorkers and their human counterparts.
4:00 PM Before Ken's presentation we will be joined by representatives (both canine and human) from the Animal Farm Foundation (AFF) and the NYC Department of Correction (DOC) who work together to make a positive impact in the lives of dogs and people through the PAWS of Purpose Program at Rikers Island. AFF matches eight dogs with two groups of inmates for an 8-week residency at Rikers Correctional Facility. The dogs live with the inmates, who work closely with a certified professional dog trainer to provide the dogs with daily care, companionship, training, and socialization. After graduating from the program the dogs go on to become assistance dogs, detection dogs, or pet dogs.
A portion of the proceeds from the sale of books by both Liza & Ken today will benefit the Animal Farm Foundation (AFF) PAWS of Purpose program.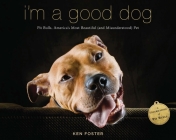 $17.50
ISBN: 9780670026203
Availability: On Our Shelves Now
Published: Avery - October 25th, 2012
---

$14.95
ISBN: 9781599211299
Availability: Available in our Warehouse: Usually Ships in 1-5 Days
Published: Lyons Press - September 2007
---

$19.95
ISBN: 9781616893439
Availability: Available in our Warehouse: Usually Ships in 1-5 Days
Published: Princeton Architectural Press - September 22nd, 2015
---